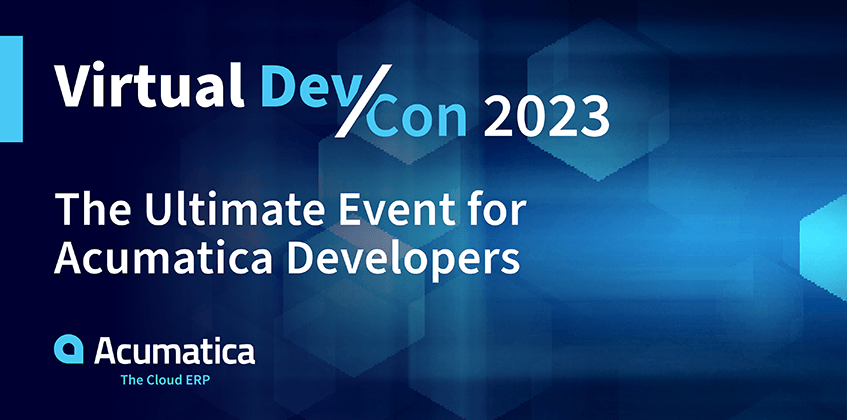 The Acumatica Developer Conference is a free event packed with cutting-edge information delivered by Acumatica and Technical Community experts. To that end, we're excited to announce that registration for our seventh annual Acumatica DevCon is open.
Register Now for Acumatica DevCon Today
Event Details
Update: Final Agenda is now available on the registration page
When: June 27-29, 2023
Who: Current and prospective Acumatica developers, technical consultants, partners and customers.
Where: As a virtual conference, you can participate from anywhere you have internet access.
What: You'll receive practical tips, best practices and indepth knowledge on how you can create, build, and evolve amazing applications and integrations, fully utilizing Acumatica's modern cloud xRP platform.
The Ultimate Event for the Acumatica Technical Community
The Acumatica Developer Conference (DevCon) is a once-a-year event that is focused on enhancing our community members' already impressive Acumatica cloud ERP knowledge. It is one of several annual events that Acumatica holds such as our Annual Acumatica Summit—which provides thousands of Acumatica customers, partners, and developers the opportunity to engage with their peers and dive deep into Acumatica's award-winning business technology—and our Acumatica Hackathon—where new ideas and solutions are incubated on the Acumatica xRP platform.
The format for this years DevCon has been changed to a shorter daily time span over a few days. Feedback from previous attendees suggested that this would best accommodate prospective attendees' busy schedules. So, this years event will be held over a three-day period about three hours per day, providing you with the same powerful information but in smaller, more digestible segments.
Each day will be approximately three hours with two 10-minute breaks, and each session will be up to 60 minutes long. During this time, you can anticipate hearing from dynamic speakers such as: our Founder and Chief Technology Officer, Mike Shchelkonogov; VP of Platform Development, Andrew Boulanov; VP of Product Strategy, Dimitri Blondeel and other Technical Directors and Sr Developers from Acumatica and the Acumatica Community.
Whether a seasoned Acumatica developer or you are new to the xRP platform, all will benefit from the range of indepth content presented. The topics will start with the fundamentals of the Acumatica cloud xRP framework to the practical aspects of creating customizations and integrations using best practices.
We also welcome this years Sponsors. Be sure to check them out. All of them offer additional capabilities to the Acumatica cloud ERP solution.
If you have any questions, please feel free to email for more information here . You can also check out our Acumatica Community site to learn about being one of our valued community members.
We look forward to having you as our guest at the Acumatica DevCon 2023!