In this second post of our new customer-focused series (check out our first post on customer Superprem), Specified Technologies Inc. shares why they chose Acumatica Manufacturing Edition and how our cloud manufacturing solution laid the foundation for future growth.
For companies researching manufacturing ERP software and considering Acumatica Manufacturing Edition, Kevin Boyle, Director of Information Technology for Specified Technologies Inc. (STI), has a message, "I highly recommend Acumatica to any company going through a transformation and looking to grow their business."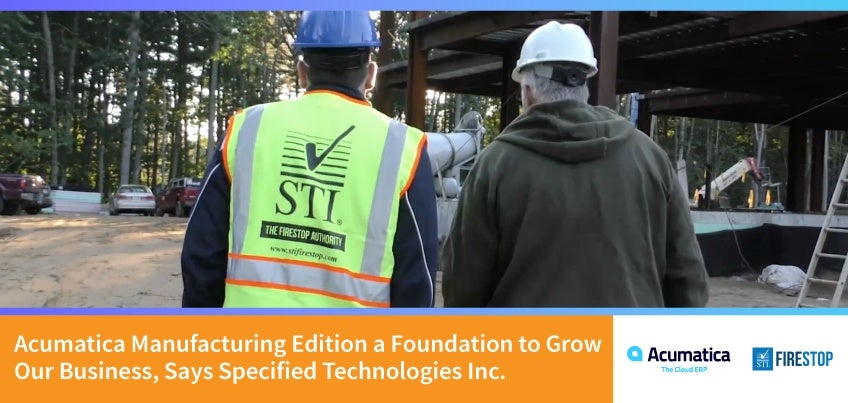 Why STI chose Acumatica Manufacturing Edition
STI develops powerful fire protection systems. Their singular focus for over 25 years has been on helping stop the spread of fire, smoke, and hot gases for the data, electrical, and construction industries. While their firestopping solutions are innovative and reliable, the financial management solution they were using was not.
The company needed to find a replacement. They embarked on a search for manufacturing ERP software that would let every facet of their organization sync seamlessly. It led them to Acumatica and Acumatica Manufacturing Edition.
"I see Acumatica as a foundation for us to be able to grow our business. It will allow us to be able to use it in the office through the web-based interface, it will also support our sales and remote people through the mobile," Boyle says.
With Acumatica's cloud ERP solution and modern ERP platform, STI has gained financial visibility and operational efficiency, which support their growth trajectory. Acumatica Manufacturing Edition integrates their manufacturing shop floor with their accounting, customer management, inventory, and reporting processes for real-time insight into their business from a single source. Acumatica's latest release, Acumatica 2018 R2, made further improvements to Acumatica Manufacturing Edition, focusing on increasing customer satisfaction and usability. They include enhancing Advanced Planning and Scheduling (APS) so manufacturers can set and meet accurate delivery dates, Engineering Change Control provisions to help simplify and control product changes, and more.
Another big benefit for STI? They didn't need to change the way they did business to make Acumatica's cloud manufacturing solution work for them. Instead, they customized Acumatica cloud ERP to fit their needs and found Acumatica easy to learn and use, resulting in increased productivity.
"The reporting in Acumatica is so flexible," says Christa Peterson, the company's Director of Finance & Accounting. "It's eliminating hours and hours of work in preparing those financial statements."
In addition, STI found that Acumatica's interoperability allows them to integrate easily with other solutions. Boyle says, "Acumatica works very well with third party software. Tableau is our reporting solution and the integration to our data warehouse with Acumatica is outstanding."
STI isn't the only organization to commend Acumatica's high usability and flexibility for its users. If you check out our customer story board, you'll hear from more customers who describe the ease of which they implemented Acumatica. Moreover, Nucleus Research released their 2018 ERP Technology Value Matrix, placing Acumatica in the Leader quadrant with eight other ERP vendors and rating Acumatica the highest in Usability for three years running. And Gartner found Acumatica to be a leader, ranking us as the highest cloud ERP software provider for User Satisfaction (out of 12 leading cloud core financial systems) in a Magic Quadrant report from earlier this year. To get the details on their findings, click on the links above and download the reports for free.
STI's success with Acumatica Manufacturing Edition can be yours
STI is a company that uses their customers' feedback to direct their firestopping designs. They note on their website, "Because our system designs are user-driven, they are easier to apply." This jives with Acumatica's practice of encouraging customer involvement with our product roadmap. Both companies want their customers to succeed, and STI is extremely satisfied with what Acumatica cloud ERP and Acumatica Manufacturing Edition has done for them.
"Acumatica provides all the fundamentals needed to run your business, so when you are ready to take the next step and expand or move into a new market, there are strong systems and processes in place to take that on," Boyle says.
STI's success through Acumatica is just one example of the powerful benefits your manufacturing company can experience with the right manufacturing ERP software.
Are you ready to grow your manufacturing business but struggling with an inefficient business management system? Do what STI has done and trust Acumatica's cloud ERP software to deliver the adaptable cloud and mobile technology you need to accelerate your success. You can learn more at Acumatica Summit 2019, happening January 27-February 1, 2019 in Houston, Texas. This comprehensive event will get you up to speed on all that Acumatica has to offer.
While I hope to see you there, don't wait until then to get more information. Contact our team for a demonstration today!