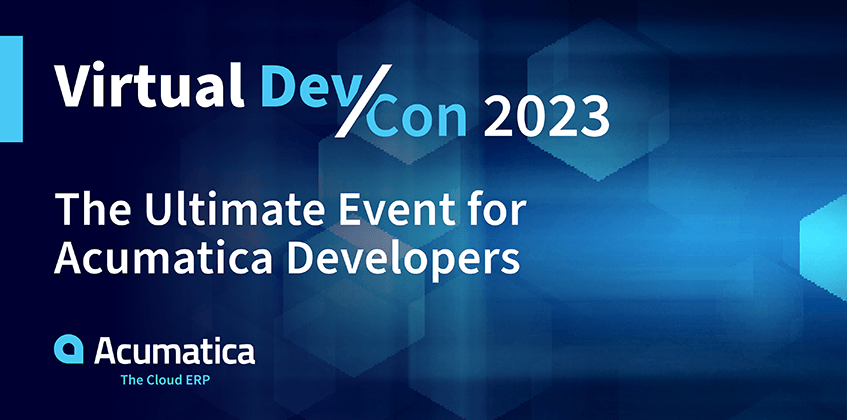 At Acumatica, we offer several popular, once-a-year events that are laser focused on increasing community engagement and enhancing our community members' already impressive cloud ERP knowledge. Two well-known examples are our annual Summit—which provides thousands of Acumatica customers, partners, and developers the opportunity to engage with their peers and dive deep into Acumatica's award-winning business technology—and our Acumatica Hackathon—which produces extraordinary applications on and for our cloud xRP platform.
But we host another event that's perhaps not quite as well-known but just as vital to our community success: the Acumatica Virtual Developer Conference. It's a free event packed with cutting-edge information, and we're excited to announce that registration for our seventh annual Acumatica DevCon is now open.
Acumatica's 2023 Virtual DevCon Event Details
When: June 27-29, 2023
Who: Current and prospective Acumatica developers.
Where: As a virtual conference, you can participate from your office, home, or on the road. All you need is a web-enabled device.
What: You'll receive practical tools and the deep knowledge you need to create, build, and evolve amazing applications and integrations, fully utilizing Acumatica's modern cloud ERP platform.
Other Things You Should Know About Acumatica DevCon
Traditionally, Acumatica DevCon has been a two half-day event, but after speaking with attendees and getting their valuable feedback, we've decided to lengthen the conference. Now, we're delivering our superlative content over a three-day period, providing you with the same powerful information but in smaller, more digestible segments.
Each day will be three to three and a half hours with two 10-minute breaks, and each session will be 30 or 60 minutes long. During this time, you can anticipate hearing from dynamic speakers, such as Chief Product Officer Ali Jani, Founder & Chief Technology Officer Mike Shchelkonogov, Founder & Head of Platform Development Andrew Boulanov, as well as senior developers from within the Acumatica developer community, which includes our Developer MVPs.
Whether a seasoned Acumatica developer or new to the platform, developers will benefit from the insightful, innovative material presented. The topics will range from the fundamentals of the Acumatica cloud xRP framework to the theoretical and practical aspects of Acumatica application performance best practices.
The is the 2023 Acumatica DevCon event agenda is still coming together as of this writing.  We'll update this post as well as our Virtual Developer landing page with all the sessions we will be offering this year. What you can expect are sessions on the fundamentals – the Acumatica Framework and Webservices, along with advanced sessions over the three day period.
Don't Miss Out on This Free, Expert-Led Cloud ERP Event
We encourage you to register for our 2023 Acumatica DevCon event today. It's the ultimate event for Acumatica developers where you'll receive exclusive content, fresh insights, and an insider's perspective on how Acumatica's xRP platform works and how it can help you successfully grow your expertise. And it's free—what's better than that?
If you have any questions, please feel free to email me at mfranks@acumatica.com. You can also check out our Acumatica Developer Community to learn about being one of our valued Acumatica developers and more about our cloud xRP platform.
We look forward to "seeing" you at Acumatica DevCon!
In the meantime, happy coding!