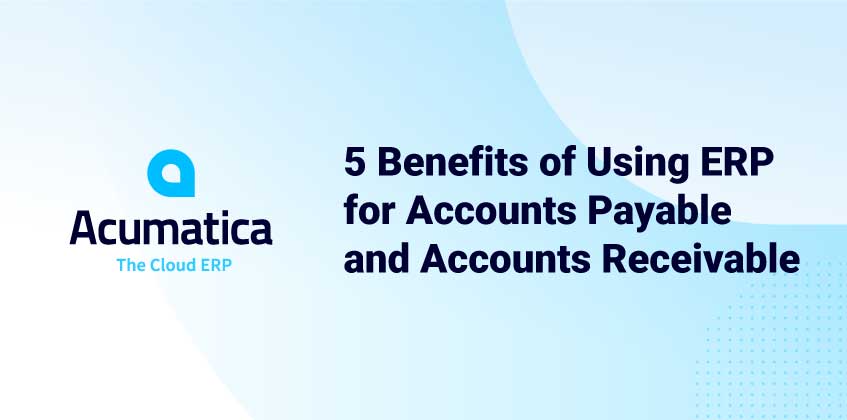 Owning and operating a small or midsized business (SMB) is demanding and can be stressful—especially during the start-up phase when you're the all-in-one human resources manager, marketing guru, administrative leader, and accounting expert. Of these roles, effectively managing your accounting needs is a critical aspect of running your business. According to the Bureau of Labor statistics, as reported by Investopedia, about 20% of small businesses fail in their first year, and one major reason is because they run out of money.
Having a firm handle on accounts receivable (AR: your cash flow and how much money is owed to you) and accounts payable (AP: how much money you're paying out) is essential. But accomplishing this can be easier said than done—which is why larger corporations have entire accounting departments at their disposal.
As an SMB, you may not (yet) be able to hire a full team of accounting professionals, but you can still ensure accounting success. How? By investing in a comprehensive enterprise resource planning (ERP) solution with integrated AP and AR functionality.
In a nutshell, ERP systems help businesses of all sizes become cohesive, intelligent organizations. They act as central databases, storing and synchronizing all information, companywide. Employees can then use this updated, accurate data to make strategic decisions. An ERP solution that is cloud based offers additional capabilities and can be accessed 24/7—anytime, anywhere.
Cloud-based ERP solutions like this automate and simplify AP and AR tasks, so you can focus on building your business.
5 Benefits of ERP
1. Improved Efficiency with ERP-Driven Automation
Automating manual tasks is one of the best ways to get things done correctly and quickly, while spending minimal time and energy. With advanced artificial intelligence (AI) and machine learning (ML) technology, you can automate bill entry and reconciliation, eliminate spreadsheets and paper document retrieval from your daily tasks. This means you can spend more time and energy on innovation, customer service, and growing your bottom line.
2. Complete Visibility Across All AP and AR Workflows
The days of jumping from application to application are over. Every business process (e.g., orders, shipments, production data, project data, purchasing, expense reports and more) funnels into AP and AR in real time with no integration complexities, providing unparalleled visibility into payments, transactions, deposits, and more—all of which the system automatically aligns with your general ledger balances. And because your accounting journey takes place in a single solution, you can view and report on all transactions at granular and holistic levels, gathering deep insights into your company's financial health.
3. Consistent Record Keeping for Audit Trails
Audits, whether external or internal, are a fact of life, and, to handle them quickly and efficiently, you have to provide accurate, consistent records for all payments and transactions. An ERP solution allows you to drill down from financial statements to the underlying documents, putting detailed AP and AR data at your fingertips, and built-in regulatory compliance capabilities are designed to take weight off your shoulders. You won't have to worry if you're remaining compliant with ever-changing local, state, and national regulations because the system keeps track of that for you.
4. Cloud-Based Enterprise Security
From Trojan horses, worms, and spyware to browser hijackers, keyloggers, and more, security breaches can be sudden and are always costly. The good news is, high-quality ERP solutions provide enterprise-level security. They:
Restrict user logins to specific IP addresses.
Use anti-virus software to continuously monitor, prevent, detect, and remove malicious viruses.
Assign unique security credentials to every user.
Provide automated backups and data snapshots to keep your information intact and safe.
If the ERP solution is cloud-based and hosted by a reliable service, such as Amazon Web Services (AWS), then your software will be protected by state-of-the-art network architecture and cloud security.
5. Better Supplier and Vendor Relationships
Managing AP and AR through an ERP system is a solid steppingstone to better supplier and vendor relationships. As the system automatically sends and receives invoices, pays bills, and inputs payment information, you deliver frictionless, on-time service to your suppliers and vendors—strengthening your relationships with them and fortifying your supply chain.
How Acumatica Can Help
Acumatica Cloud ERP provides a comprehensive Financial Management application that covers your AR, AP, general ledger, payroll, cash management, and tax management needs (and so much more). Acumatica is purposely built to help you manage your assets, income, and expenses through one connected system.
Danforth Pewter's story is a good example of Acumatica in action.
Danforth Pewter, a family-owned business that designs and sells handmade pewter products, was looking for a new business management system that would provide a better shipping solution; manage their AP, AR, inventory, and manufacturing needs; and seamlessly integrate with their point-of-sale system. And it had to be affordable.
"Everyone told us that it didn't exist," says CEO Bram Kleppner, "that it would cost $5 million. 'In your price range,' they said, 'there are no integrated systems.'" But "they" were wrong.
"Once we heard about Acumatica," says Kleppner, "the choice was easy. It was the only one that met our criteria."
With Acumatica, Danforth Pewter dropped two disconnected systems for one connected solution, integrated their financial and POS systems, increased their number of daily orders, and improved employee productivity. And they've done it all at a price they could afford.
"The leadership team of any small or medium business considering an ERP system is doing themselves a great disservice if Acumatica isn't on their list to investigate," Kleppner says.
We couldn't agree more. It's time to eliminate manual interventions and replace your disconnected AP and AR systems. Contact us today to begin reaping the benefits of Acumatica's modern, integrated, and award-winning ERP solution.
And stay tuned for our next article where we dig deeper into Acumatica's AP and AR capabilities, including paying multiple vendors simultaneously, tracking due dates, managing cash flow, and much more.