Software development company Itransition develops custom solutions for small, medium, and enterprise-sized businesses. Today, they provide tips for developing industry-specific versions of SaaS platforms.
Going vertical or focusing on a smaller audience can be challenging—and a little scary. But it is the single best way to shorten your sales cycle and close more deals with less effort. Let's look at how horizontal, vertical, and hybrid SaaS strategies differ.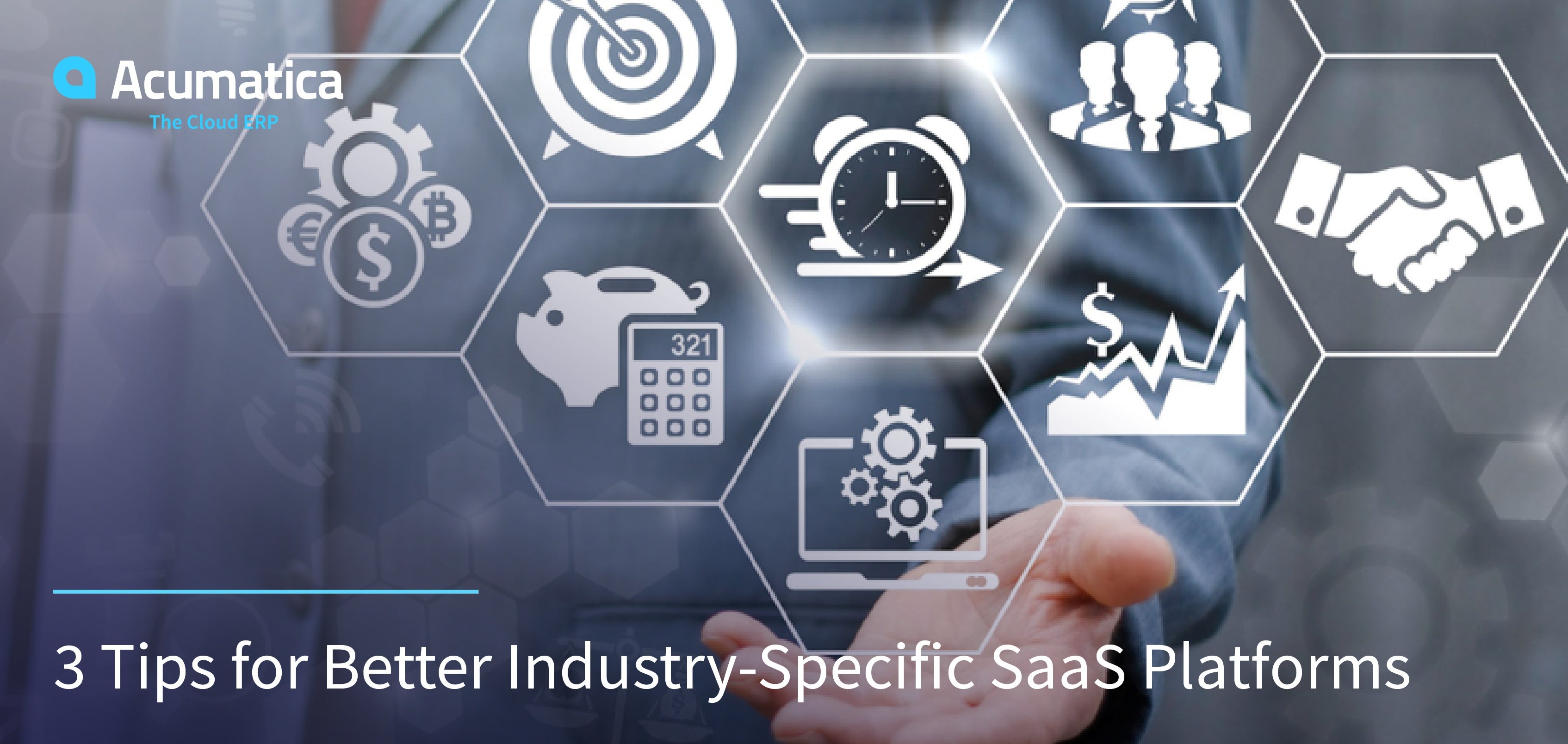 Horizontal, vertical, and hybrid SaaS solutions
Horizontal SaaS solutions have a 20+ year history. They are developed for a certain type of employee, function, or division for all industries. They are applicable to a very wide audience, and marketing them focuses on a broad feature set and a "something for everyone" mentality. Examples include Salesforce for sales team automation and Adobe's cloud suite for marketing departments.
Vertical SaaS solutions, on the other hand, are relatively new and provide targeted functionality for a specific market niche. Their appeal is solving problems for a like-minded audience. Marketing these solutions focuses on a "this is just for me" mentality. Examples are ServiceTitan with software for home-service contractors, BioIQ for health-testing, Health Assurance Plan for dental practices membership plans, Guidewire for the insurance industry, and so on.
And then there are vendors like Acumatica that started as horizontal SaaS but are now focused on a hybrid offering, with vertical extensions for different industries like distribution, field services, manufacturing, commerce, and construction.
So, how do you get started? We have some tips.
3 tips to developing a successful vertical SaaS solution
You first need an industry-specific feature set, or solution. Based on our experience, here is a strategy you can use to develop a successful Acumatica vertical cloud and SaaS solution.
1. To choose the right features, engage clients, experts, & VARs
To understand what functionality you need in addition to the main one, study the market. You can order research from a specialized agency or do an evaluation in-house. Taking our experience into account, we have always been most successful when we have relied on the advice of clients, industry experts, and VARs. 
Clients
Many clients we talk to are not happy with their current vendors who tend to be conservative vendors offering the same inflexible product that has been on the market for 20+ years. Their products offer only minor updates, no seamless integration, and limited options for hosting and subscription plans. Our clients often complain that vendors of siloed software packages promise their products to do a lot but end up being basic, pricey, difficult to use, and not easy to scale. 
This clearly shows that niche industries lack ready-made tailored SaaS platforms, and risks connected with developing such solutions from scratch turn many experts off. By contrast, Acumatica cloud ERP offers a great foundation for building industry-tailored solutions thanks to its dynamic, flexible nature and ability to release new functionality in just 6 months.
Industry Experts
Experts are people who have been in the field already as you were just starting to read in pre-K. Very often bright ideas and strong initiative come from these early pioneers because they have struggled with inflexible industry software (of your competitor) and have heard unending client complaints for decades. They understand business problems and the structure of the industry from the inside.
When you pick your industry, the more synced you are with the experts, the better. Find out if values, such as continuous improvement, professionalism, and attention to detail, matter as much to them as they do to you. As Acumatica's long-term developer partners, having the same values allowed us to always enjoy smooth collaboration and mutually beneficial results.
Experts are aware of which industry-standard software continues to be stagnant, bulky, inconvenient and worse, noncompliant with the current regulations. Despite repeated suggestions, requests for improvements and complaints from users, these solutions have done nothing but provide false promises.
When you engage these experts, you automatically gain a ready list of existing software drawbacks and missing functionality. You can turn this insight into features for your industry-specific SaaS solution. Since experts have done it for decades, you will never run out of ideas for many iterations ahead. Maybe the experts will even know how to prioritize new features and in which order to roll them out. But if not, read our next point.
VARs
Besides experts and end users, when it comes to Acumatica, VARs are an invaluable resource. Collaborating with VARs (Acumatica's license and implementation experts with deep knowledge of a particular industry) is important to collect and prioritize requirements for your future solution.
VARs' input will help you with the following four aspects:
Knowledge of Acumatica's products
The niche industry you are developing for
The target customer base
The end users
Acumatica VARs, who receive incredible support from the Acumatica Partner Program, are experts in core ERP functionality and also product extensions and customization options. VARs work closely with clients in your target audience, and their industry knowledge helps you choose the best roadmap to accelerate your business.
Getting feedback on pain points, missing functionality, and negative experiences will give you a 360-degree view of the problem. In turn, the insight allows you to correctly prioritize the requirements for the solution. Because VARs carefully analyze user feedback and consider their requests, you keep usability first. Constantly listening to customer and partner feedback means your product will not only meet temporary industry needs but will also continuously evolve.
2. Prioritize feature realization
So, you have generated feature ideas and now need to prioritize feature release order by customers, using surveys and advisory boards, and by team, using one of the available methodologies (depending on the size and complexity of the project).
Prioritize by customers
Go to industry-specific conferences to meet existing and potential clients. Look into events in your particular niche such as seminars, trade shows, executive retreats and incentive programs, team building and appreciation events, partner networking and organization milestones events, and product launches.
When you meet potential clients, invite them to take a survey. If you are building new product features, ask them to rate ten product features from the most to the least important. If you are looking to improve existing ERP software, make a survey exploring the best and worst features of existing ones. Make sure your surveys take as little time as possible and are easy to fill in. A few open-ended questions might work well. For instance:
Which ERP software do you currently use?
What are the best features of the software?
What software features are missing?
You should also create User Advisory Boards to gather feedback from users. Invite users to the group to get feedback that helps you improve product offerings. The more users know about your products, previous versions, customizations, add-ons, and the proposed future roadmap, the better. To achieve this, give board members responsibilities, such as attending webinars at regular intervals. If you make them available online and offline, they can fulfill their duties anytime, anywhere.
During the webinar, show users new ideas, propose potential new features, and ask for their vote on the highest priority features at the end. Getting early responses to your prototype strengthens your solution since you still have time to fix issues, redesign architecture, and fine-tune new functionality.
Engaging in an active dialogue with users by sharing ideas and concerns helps create a sense of ownership and a long-term mutually beneficial partnership. 
Prioritize by team
Since our development teams choose to use Agile methodology, we have a lot of experience using Agile to prioritize requirements. Depending on the complexity of the team and the product developed, we use Agile for small, medium and complex projects.
For smaller projects, it's easier to view work items as a flat list, ordered by priority. The team just takes the highest priority tasks from the top of the list one-by-one, and you decide when to make a release based on how many features are already implemented. You can organize work by categorizing tasks as low priority, standard, or even red alert. These will be prioritized accordingly.
Developers pull the tasks from the top of the pool or drop all activities for emergency tasks. Teams aim at limiting work in progress and producing tangible results as fast as possible. This increases delivery predictability and productivity. You will also get rid of aging tasks and remove them from the backlog (they went long enough without being delivered, and no one died). If they become relevant again, just add them back to the backlog.
For medium-sized projects that have larger scope and longer timeline but still just one team, a bit more planning might be required. In that case, it makes sense to plan the work using short iterations of a fixed duration. You still work with the list of tasks as in the previous case, but the team has a dedicated planning session for each iteration. And once such iteration has started, its scope cannot be changed.
Also, for medium-sized projects it is quite typical to have multiple project stakeholders. All of them can add requirements to the stack. But we recommend designating a single product owner who will be the final authority representing all the stakeholders and responsible for requirements prioritization.
For large projects in scaling situations, we use planning on two levels: shorter iterations resulting in a build for internal review and longer releases, resulting in a new version available for the public. Typically, there would be a single common feature list on the release level and multiple task lists on the iteration level, one for each of the teams involved.
Also, since it becomes increasingly difficult to prioritize tasks, we recommend using ranking formulas, taking into account not only the business value but also time criticality, job size, and technical risks.
3. Develop the solution
When developing the solution, we pay attention to short delivery cycles with almost immediate user feedback, syncing with vendors and ensuring the additional functionality doesn't come into conflict with the main one.
Deliver fast, Get feedback
To make our delivery cycles short, we use MVPs, or minimum viable products. These are versions of future products that include a minimal set of features but allow us to make value propositions and target early adopters.
When developing only core value features, we don't overbuild first releases, reduce rework, and make development efficient by avoiding feature stuffing. MVPs also help us get early customer feedback, focus on improving critical business features, and fix bugs without fuss. Clean and simple products are also faster to release.
When you use short delivery cycles to make small MVPs, you have a chance to test it on users, and based on their feedback, prove the world needs your solution. Some vendors make "silent" releases daily, introducing small improvements, fixing bugs, extending functionality, etc. Such releases usually go unnoticed by the general public and require additional efforts from vendors, but those efforts always pay off. For instance, here at Itransition, we perform regression tests for the growing volume of previously implemented functionality to ensure frequent releases. We automate the process so that the volume does not negatively affect the speed of the regression test.
Acumatica publishes two major releases a year (the latest, Acumatica 2019 R2) and many minor releases. For an ERP system, that is a great pace, and allows the platform to listen to the users while it changes and extends.
For Itransition's various customers, we schedule releases in different ways. For some, we deliver major releases once a quarter to get early feedback from real users. Also, end users can get early access to builds on the portal and give feedback. Even users who are not ready to migrate to the new version can test it locally to make an informed decision after they have 'played' with it.
Early feedback allows us to create a detailed roadmap and perfect the product with each new iteration. Faster feedback means extending user-centric functionality by deciding which features the users need most and in what order they should be developed. Also, for a new player in a niche industry, this is another opportunity to make a name on the market where veterans are still taking up a huge share and show your goods to industry people who will use the product daily.
Sync with Acumatica team 
Making sure your developed add-ons don't come in conflict with the main platform is important. If you develop them as add-ons, it's not going to be anything to worry about. But make sure the Acumatica team isn't preparing the same or overlapping functionality in the next cloud ERP software version. We had a situation where our team planned to roll out a feature only to find out that Acumatica had the same one in the works.
To avoid such confusion, talk to the Acumatica team about your plans. Have your team representative meet Acumatica and show them ideas pipelines, product demos, and planning sessions to keep in sync. Share a high-level plan of features you consider developing and get that feedback to save you trouble.
Practicing this builds trust and a long-term partnership where you work hand in hand to create a stronger overall infrastructure for both the main and additional products. And once you have greenlit the roadmap and started development, get a solid collaboration plan in place as well to keep in touch with the Acumatica team.
Handle deployment options 
Syncing the development of additional and main functionality is vital for industry-specific solutions. This is especially true when you have three ways to deploy the solution: SaaS, On-prem, and Hybrid.
Our approach to which deployment model to customize is simple. Ideally, you should develop in a way that your customer perceives each model as the same product—with absolutely no differences, regardless of whether it is deployed into the cloud or a local server. You would think that by now this approach would be the golden standard, but unfortunately, we can attest to some negative experiences regarding stark differences between product versions from some vendors.
When we do our customization products, we cover all situations and make sure the clients can't tell the difference, regardless of which model they choose.
Summary
Based on our experience, this checklist can help you develop industry-specific versions of SaaS platforms:
To pick the right features, engage with Clients, Industry experts, and VARs
Prioritize requirements by customers using surveys and advisory boards, and by team, using one of the available methodologies, depending on the size and complexity of the project
Develop the solution by:

Making delivery fast
Keeping Acumatica in the loop
Minding various deployment options
For any questions, contact our team at Itransition today.