In the postmodern cloud ERP world, the merits of industry-specific ERPs vs. those of generic ERPs continue to be debated. Which one is better? The president and founder of ACC Software Solutions weighs in with his perspective on whether there's a winner (or not) and on how the debate should change.
Any search for an ERP solution, up until recently, has come down to a choice between an industry-specific ERP solution or a more flexible "generic" ERP solution. In fact, this debate has been ongoing for decades. But as we usher in a new era of technological innovation, Enterprise Resource Planning (ERP) solutions have transformed into what Gartner has named "Postmodern ERP." Since ERP solutions and strategies have changed, including a shift to cloud ERP, it's time to change the industry-specific vs. generic ERP debate as well.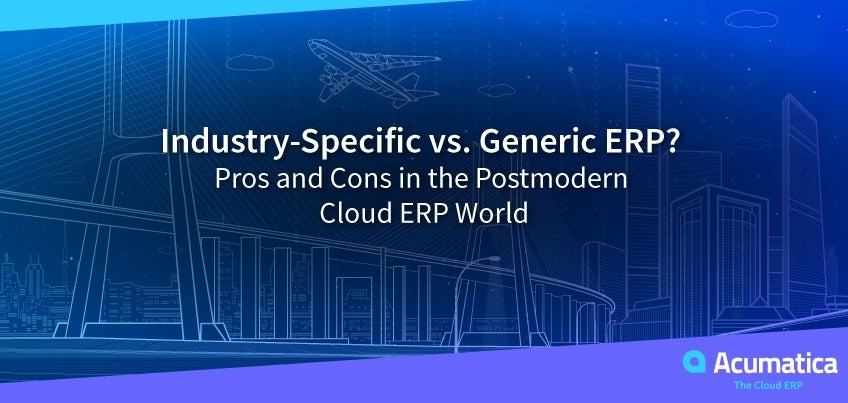 Postmodern ERP = integrated, cloud-based ERP
Postmodern ERP is a mixture of the best-in-breed approach to business management applications and the modern suite-based approach to ERP. But what caused the shift away from the modern ERP MegaSuite to postmodernism? Disruptive technologies like the cloud, Application Programming Interfaces (APIs), and the adoption of the Software as a Service (SaaS) model.
These developments made it possible for businesses to affordably invest in highly specialized, and sometimes industry-specific, applications that flexibly integrate—something Acumatica, a "disruptive" cloud ERP, has done from the beginning. Reacting to this industry disruption, other vendors began to re-architect their solutions into a core set of applications that can serve as a system-of-record with differentiating processes and activities complemented with pre-configured or API-enabled integrations.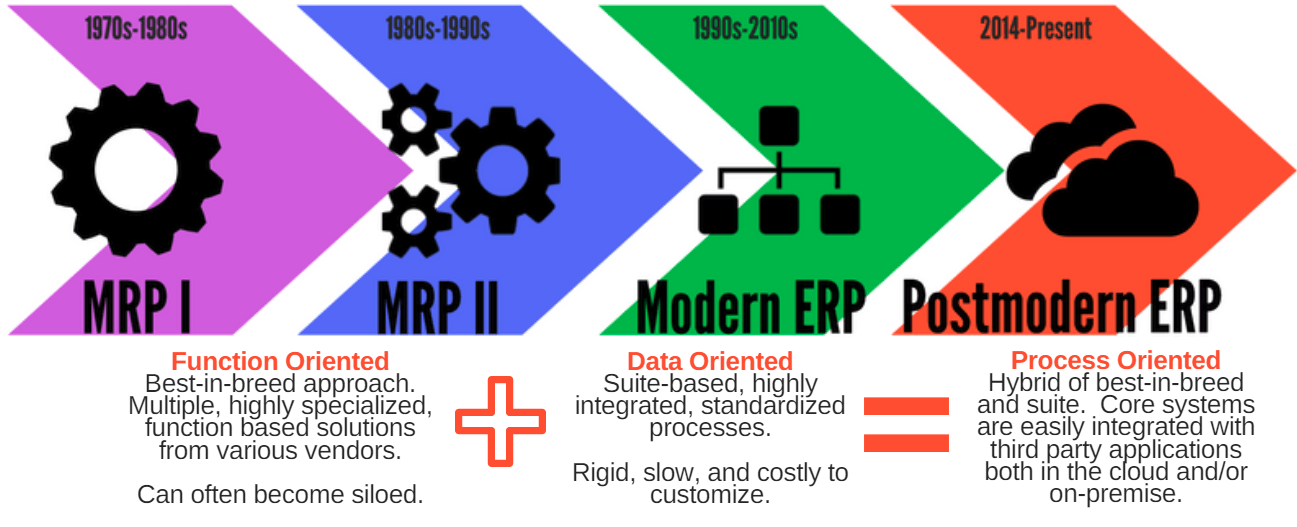 Postmodern ERP solutions are deconstructed into personalized sets of integrated business functions. Like the best-in-breed approach, the goal is to use the best applications possible in each area of a business. However, like the modern suite-approach, the applications must integrate with each other, as tightly or loosely as necessary, to preserve data integrity. This flexible approach allows for quick, easy customization of their cloud ERP system.
Acumatica, the winner of the 2018 CODiE for Best Cloud ERP Solution, understands that this means that there is no one-size-fits-all approach to postmodern ERP. For example, two organizations within the same industry could implement postmodern strategies that do not resemble each other at all. That's because each organization is different, defining its own postmodern strategy according to its operations, unique needs, budget, and future goals.
Throughout all these changes, the Industry-Specific vs Flexible and "Generic" ERP debate has continued. Following are some of the key arguments for each side.
Industry-Specific ERP vs. "Generic" ERP
Industry-specific solutions are built to offer comprehensive functionality for a niche market and so have a much shorter time to value. Industry-specific solutions typically have more applicable functionality because they have been designed around definite requirements with a deep understanding of industry-specific processes.
With a "Generic" ERP, it's a "one-size-fits-all" solution. These are usually supported by established vendors with plenty of brand recognition. These vendors can also usually offer significant resources dedicated to product development which may or may not be matched by smaller industry-specific vendors. However, a generic ERP will likely need some sort of customization, enhancement, or add-on to meet the requirements of virtually any business. Otherwise, relying entirely on a generic solution will lead to "generic" processes and strip the organization of any room for innovation or competitive advantage. Keep in mind, these customizations can be costly, time-consuming, and often result in inflexible systems that barely get the job done and can't adapt when processes or technologies change.
Modern ERP suites were monolithic in nature, and required these costly customizations, meaning that industry-specific solutions clearly had the upper-hand for process-centric businesses. In the postmodern multi-cloud world, cloud ERP systems provide core functionalities and serve as a system-of-record for a collection of applications that can deliver industry-specific or general functionality depending on your business needs and often includes easier ERP implementations and user-friendly cloud ERP software.
Which ERP wins?
The truth is, there is no clear winner in this debate. Every business will have different operational needs, administrative needs, expectations, and goals, just as every industry has different regulatory needs and best practices. However, by fully embracing the inherent flexibility of a postmodern ERP platform, your business no longer needs to choose between industry-specific functionality and state-of-the-art technology. As a hybrid of the best-in-breed and suite-based philosophies, postmodern cloud-based ERP solutions offer the best of both worlds regarding functionality and adaptability.
Acumatica takes this "best of both worlds" mentality one step further. As a true cloud ERP, it offers industry editions that meet industry specific standards and support best practices without sacrificing flexibility, data integrity, or integrations.
To learn more about Postmodern ERP and how it can benefit your business, download our free eBook!
Contact ACC Software Solutions if you have questions about Acumatica's Industry editions and how they can benefit your business.