Manufacturing success rests on accurately estimating your costs (e.g., labor, materials, machine, and set up costs) and keeping them in check. Sounds easy, but cost management is complex, which is why implementing a modern manufacturing ERP solution that incorporates costing functionality is necessary. Acumatica's Manufacturing Job Costing Infographic lays out exactly what you'll get with the right manufacturing software.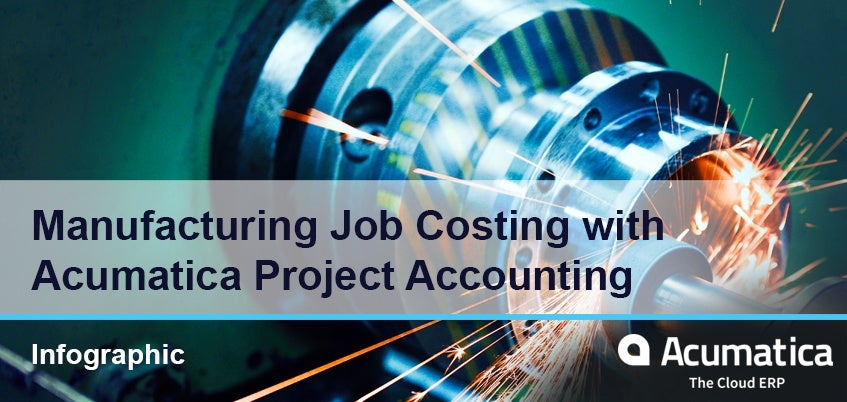 Are you in the market for a modern manufacturing ERP system? If the answer is yes, then you're likely deep into the evaluating process. Acumatica has a few Whitepapers that can help walk you through it, highlighting the importance of distinguishing between true and fake cloud software, using Key Performance Indicators (KPIs) for manufacturing, and finding a flexible manufacturing ERP. However, there's another critical factor you should be including in your evaluation: cost management.
Choosing manufacturing software that embeds cost management within the operational subsystems, including Bill of Material and Routing, Inventory Management, Production Management, Purchase Order Management, Estimating, and Sales Order Management is necessary in today's competitive market. You also need real-time data integration with your financial applications (Accounts Payable, Accounts Receivable, and General Ledger).
Acumatica understands success rests on balancing supply and demand and controlling your total manufacturing costs, which is why Acumatica Manufacturing Edition may be exactly what you're looking for. Review the Manufacturing Job Costing (with Acumatica Project Accounting) Infographic to see how easily you can compete when you have the right tools and information at your disposal.

From project start up to project completion, Acumatica cloud ERP and Acumatica Manufacturing Edition helps you define, collect, and manage your data, supplying you with the Business Intelligence and Reporting and Dashboarding capabilities you require. Acumatica customer Opflex Technologies, which manufactures and sells specialized, environmentally-friendly foams used in daily living as well as for filtering oil and contamination from water, opted to replace their manual processes with Acumatica Manufacturing Edition and reaped the rewards.
"We were able to take the manual Bills of Material and input them into Acumatica, which provided a secure and verifiable environment for a key part of the company's operations," says CFO Pat Trefun in Opflex's success story. "By utilizing the Acumatica Manufacturing Edition module…we were able to determine verifiable product costs that allowed us to put together a pricing model. This increased our gross margin percentage dramatically."
Interested in learning more about Acumatica's true cloud ERP software and flexible manufacturing ERP software? If the answer is yes, then contact our experts today.