Overpromising and underdelivering? Not for these promotional products companies that were already delivering top notch products and services, then shifted it into overdrive after deciding to implement Acumatica Cloud ERP.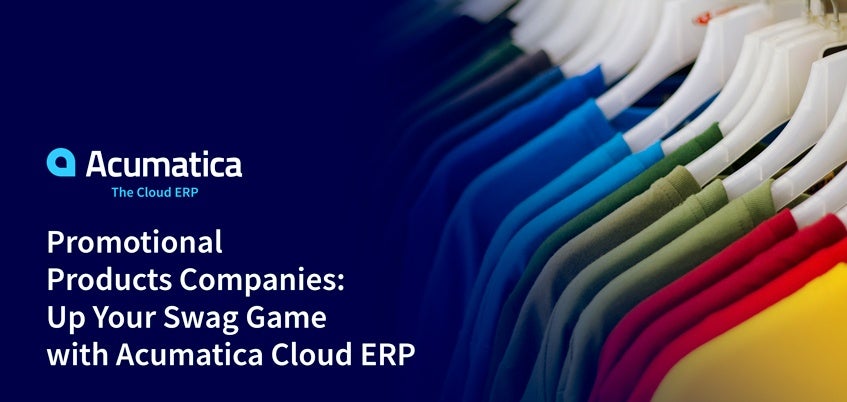 For promotional products companies to satisfy their customers, they must first understand what the customers of today are looking for. Obviously, quality products and stunning imprints are near the top of the list, but these are only slightly higher than—or possibly equal to—the need for easy ordering, fast delivery, and excellent customer service. Achieving these high expectations can seem impossible, but it is very possible with Acumatica Cloud ERP.
Overdelivering with Acumatica Cloud ERP
Sadly, there are many companies that over promise and under deliver. This is not the case for promotional products companies that have turned to Acumatica's cloud ERP software, including these companies who are overdelivering on their promises to their customers.
Kevins Worldwide
For the last three years, Kevins Worldwide has been one of Inc. Magazine's 5000 fastest growing companies. They provide embroidery, screen printing, and promotional products to B2B and B2C customers with over 800,000 apparel and incentive products. In-house order fulfillment with multiple screen-printing presses and embroidery services ensures customers receive their orders quickly. The company also offers eCommerce web store management services, hosting more than 40 eCommerce websites.
They were relying on legacy accounting software that didn't connect to their online ordering software. They also manually processed their growing number of orders and inputted them into Everest. When it came time to find a cloud-based ERP solution, Acumatica's affordable cloud ERP and commerce management software, modern platform, and seamless connections to third-party applications were enough to beat other ERP providers, including Epicor and SAP.
With help from Acumatica partner InfoSourcing and owner Harsha Sarjapur, Kevins Worldwide implemented Acumatica Financial Management and Acumatica Customer Management along with seamlessly connecting to InfoSourcing's PrintShop, an application that manages print production and scheduling, as well as helping to integrate 3dCart, software that processes online orders, with a custom plug in called "Order Sync." Finally, the introduction of Celigo, a multi-cloud integrator, allowed Kevins to integrate with multiple eCommerce platforms.
"Acumatica is our one-stop shop for everything from accounting to inventory to sales to purchasing and so on," says Craig Matusinksi, eCommerce & Social Media Director. "Everyone—production, purchasing, sales, inventory—now uses Acumatica, which gave us the ability to have one version of the truth in a central location, in one system that led to less discrepancies from area to area," Craig says. "It's rare for everything to work well without hacks or workarounds, and Acumatica works really well."
Kevins Worldwide's Acumatica customer success story provides more details, including the many benefits they've experienced, such as the elimination of siloed applications, automated order processing, reduction in errors, time savings, streamlined workflows, and improved customer service, just to name a few.
Ink
Custom t-shirt printer Ink is a leader in the industry. The company uses the best equipment and materials to provide t-shirts with amazing style, fit, texture, and message-communicating artwork. The employees, who consider each other family, guarantee their customers that they will create a custom design they will like, will be done on time, and is right.
Unfortunately, though they were using high quality equipment to automate and streamline their screen-printing process, they weren't using high quality business management software. Also unfortunately, their journey to better software involved looking for but not finding industry-specific software, developing a custom screen-printing program that was limited, implementing Everest and then learning the product would no longer be supported, and finally taking a leap of faith with an unscalable Cyrious' Control.
As a growing company (from 1,000 shirts/day on several presses to 10,000 shirts/day on 13 presses), they needed a connected system with print industry functionality. They found it with Acumatica Cloud ERP and InfoSourcing: PrintShop for Acumatica.
With the help of InfoSourcing's owner, Harsha, Ink implemented PrintShop for Acumatica in four months. Ink also implemented Acumatica Distribution Edition, Acumatica Customer Management, Acumatica Financial Management and third-party applications eCommerce shipping solution: ShipStation; EBizCharge Credit Card Processing Integration: Century Business Solutions: and Acumatica Native Shopify Integration: Acumatica U.S.A.
"We went from totally custom software that was not industry specific to industry-specific software that could not be customized at all," says Caleb Harris, Ink Senior Vice President, Business Development, in their Acumatica customer success story. "Then we learned about Acumatica, the cloud-based ERP leader that gives developers the ability to build applications on top of it. At last, we now have an industry-specific application built on a platform that can scale with us as we grow."
He also says, "Acumatica has been a game-changer. We're finally on the one solution that is right for our business and able to do things in our business that we have been wanting to do for years."
Up Your Swag Game with Acumatica Cloud ERP
Both Kevins Worldwide and Ink have been able to up their already impressive customer service with Acumatica's modern, affordable, and scalable cloud ERP solution. Geiger, an international promotional products distributor, is a new Acumatica customer that is anticipating the transformational benefits of Acumatica.
Says Geiger's Senior Vice President and CIO Dale Denham, "We are primarily looking forward to a properly designed ERP system that does what we need it to do without having to invest significant resources. Ultimately, we are looking forward to the growth we will experience from having the capabilities Acumatica provides. As a global company with offices in multiple countries, the functionality of Acumatica will make it even easier to meet the demanding needs of our customers."
Promotional products companies must keep in step with the enhanced buying experience today's customers expect. Legacy technology systems and information silos will not do the trick. It's time to move to a mobile (can be accessed at any time from anywhere), adaptable, cloud-based business management solution that shares real-time data across accounting, CRM, order processing, distribution, website management, and more.
Streamline your business from end-to-end and delight more customers with Acumatica's inventory management software, order management software, distribution management software, eCommerce software solutions (and more) while easily integrating with valuable third-party applications that meet your industry-specific needs.
If it's time to up your swag game, contact our team to learn more about the benefits of being an Acumatica customer.

Kevins Worldwide  |  Ink  |  Geiger