What does "push and pull" mean in terms of cloud ERP innovation and customer needs? Mint Jutras explains in their new, complimentary report.
Cloud ERP innovation is a must for technology vendors vying for customer loyalty and a top spot in the marketplace. Mint Jutras, an independent research and advisory firm that specializes in enterprise applications, has released a new report on ERP innovation. It suggests there's a "fine line" vendors must tread in terms of meeting customer requests versus meeting unforeseen needs. The report explains what this means and uses Acumatica as an example of an ERP solution that handles this challenge successfully.
The report, "The Push and Pull of Acumatica's Cloud ERP Innovation," is available to download for free today. In it, you'll learn why:
Cloud ERP vendors need to do more than collect customer feedback
Acumatica is able to provide breakthrough features from even the simplest suggestions
Acumatica's cloud ERP software includes Artificial Intelligence (AI) and Machine Learning (ML) (and the resulting benefits to customers)
Using drones and augmented reality solutions is beneficial to businesses (think increased efficiency)
Customers should have higher expectations for their cloud ERP vendors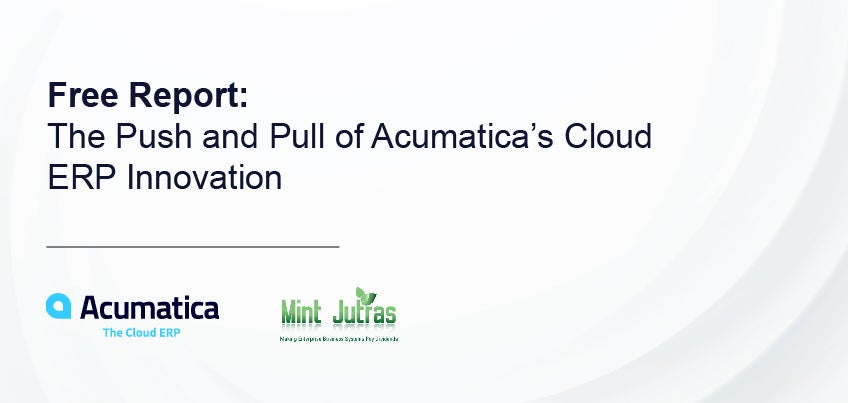 The "push and pull" of cloud ERP innovation
In 2018, Mint Jutras released an Enterprise Solution Study asking participants the level of investment they've made (or will make) in emerging technologies, such as cloud/SaaS, IoT, Natural Language Processing, GPS, Machine Learning, and Artificial Intelligence. Apart from moving to the cloud/SaaS, the percentage of respondents who said they were invested, planning to invest at some point, actively considering, or expecting their vendors to deliver these technologies was under 20%.
With apparent lack of interest in advanced technologies, Mint Jutras asks, "Is it smart to deliver something few are expecting?" Mint Jutras answers its own question with a resounding "Definitely!".
It also says this about waiting for customers to ask for emerging technologies within their cloud ERP software: "If solution providers wait for customers to wake up to the value and ask for them, they will be too late to the party. Because it is not a trivial task to create this kind of useful application of technology."
The report isn't saying, however, that ERP vendors shouldn't use customer requests as a driving force behind their product roadmap. On the contrary, customer input is essential. The combination of using customer requests for specific features and investing in new technology that can help customers in ways they didn't even think about is a winning combination. It also results in what Mint Jutras calls a "push and pull" situation.
The "push" comes from the customers requesting features they want, and the "pull" is from ERP vendors who introduce their customers to unique, not requested enhancements that can improve productivity. Mint Jutras' report says this pushing and pulling is something Acumatica has been able to successfully balance.
"While they [customers] may still ask for additional features or improvements, most fail to consider all the possibilities new technology can bring. And therefore, the responsibility falls to the solution providers to explore and discover that potential," the report states. "Acumatica embraces that responsibility whole-heartedly, constantly looking to not only expand functionality, but also improve the user experience by making users more efficient and productive."
Acumatica cloud ERP innovations for 2019
If you download Mint Jutras' complimentary report, you'll read about how Acumatica balances the push and pull of ERP innovation by leveraging customer feedback and other technology providers' innovations to develop a comprehensive and forward-thinking product roadmap. The report also details out how Acumatica has connected directly with partners and customers by forming a partner advisory board, providing a vote-for-enhancements website, establishing Focus Groups, visiting customers onsite, and more.
This intense focus on the Acumatica community's needs (both on what they're requesting and what emerging technologies can bring them) has resulted in a heavy investment in research and development. In fact, 74% of Acumatica employees are in R&D, allowing Acumatica to enhance its full suite of integrated business management applications through twice-yearly product releases, the most recent being Acumatica 2019 R1.
Acumatica Summit 2019 attendees saw first-hand during the Day One Keynote and Day Two Keynote some of these enhancements, including a new side-panel feature, Acumatica Alexa for Business, the use of drones for inventory purposes, Microsoft Hololens, and more—all of which the Mint Jutras report expounds upon.
In a recent press release about Acumatica 2019 R1, Acumatica CEO Jon Roskill said, "We've continued to listen to feedback from our customers and partners since the release of 2018 R2 last fall, resulting in continuous refinement and improvement of Acumatica's cloud ERP offerings. This product release of 2019 R1 continues our independently-recognized industry leadership in usability and customer satisfaction across multiple business sectors."
It will only take a minute to download Mint Jutras' report and to learn how you can take your business to the next level with Acumatica's modern, cutting-edge technology— technology your competitors aren't even pursuing.
If you have questions or would like a demonstration of Acumatica's cloud ERP software, please contact our team today. And if you missed Acumatica Summit 2019 and all of our exciting announcements for the year ahead, then watch the two Keynotes right now.