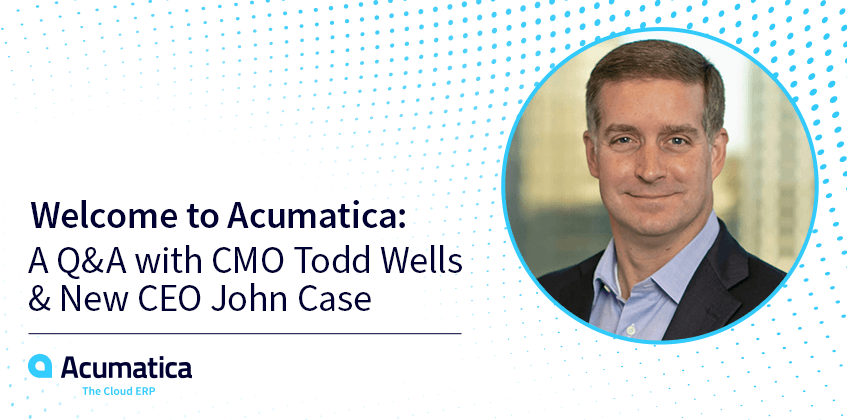 I'm thrilled to welcome John Case as our new CEO, starting March 1, 2022. Most recently, John was President and CEO of Unify Square for the last five years before the company was acquired by Unisys. Before Unify Square, he spent 16 years in various leadership positions at Microsoft, most recently as Corporate Vice President leading the global marketing, product management, and business teams for Office and Office 365.
I recently sat down with John for a quick Q&A to introduce him to the Acumatica community, and I know they will be as excited as I am to have John at the helm.
Getting to Know John
Question: What excites you most about leading the Acumatica team?
John: I really enjoy leading teams and companies that are experiencing dramatic growth in exciting industries, and Acumatica certainly fits that description. While the company has been around for a while, Acumatica is now pushing the status quo in the cloud ERP market. Acumatica is strong, innovative, and fearless, and I'm excited to be a part of its ongoing journey.
Question: What previous work/results are you most proud of?
John: That's a tough question. I'm proud of much of what I've accomplished during my time at Microsoft and Unify Square. One interesting example is from my time as Corporate VP for Office and Office 365. There, I led the global rollout of Skype for Business and enterprise voice in the cloud, which later became Teams. That's the kind of project that requires a lot of time, effort, and creativity. When the pandemic hit, I was proud that I had been part of a solution that allowed companies to transition so quickly to remote and hybrid work.
Question: We're thrilled to add another Bellevue native to the Acumatica team. What do you enjoy most about the PNW? 
John: What's not to love? Other than the rain, I mean. I think the PNW is one of the most beautiful places in the world. It has stunning mountains on one hand and the wide-open ocean on the other. If you like outdoor activities, you have your pick in this area. Bicyclists, hikers, boaters—you name it, you can do it. Plus, the people are great, and I enjoy the community.
Question: Any initiatives you're looking forward to continuing or launching at Acumatica?
John: I'm looking forward to joining a team that has grown Acumatica to over 8,000 customers around the world. My goal is to continue us on that trajectory, delivering a market-leading cloud ERP product that puts customers and innovation first. Under my watch, I plan on ensuring that Acumatica's status as an ERP leader remains intact. I also plan on continuing the love of community that is so apparent in everything Acumatica does.
Taking Acumatica to the Next Level
Though a global company, Acumatica is ready to continue expanding into new markets. John's many years of executive leadership experience melds perfectly with Acumatica's established strategic vision and our commitment to our channel strategy.
As we anticipate John's leadership, we want to acknowledge Jon Roskill, our faithful leader of 8+ years. I couldn't be more excited for Jon as he "graduates" to a new senior advisory role for EQT Partners, advising other portfolio companies on cloud software strategies. Jon is one of the largest shareholders of Acumatica and will continue to work with the Acumatica leadership team.
Jon said in the press release announcing Acumatica's new CEO, "I've been honored to lead this amazing company and our passionate team that continually demonstrates our mission and values and pushes the envelope of what's possible. It's been a pleasure spearheading Acumatica's growth into the market leader it is today, and I look forward to supporting its future growth."
Speaking on behalf of the Acumatica leadership team, we look forward to maintaining our connection with Jon and benefitting from his advice in the years to come.
On that note, I want to welcome John once again and thank him for taking the time let us get to know him. We're excited to see what the future holds as he takes Acumatica to the next level.
To learn more about Acumatica and our award-winning cloud ERP software, contact our team today.