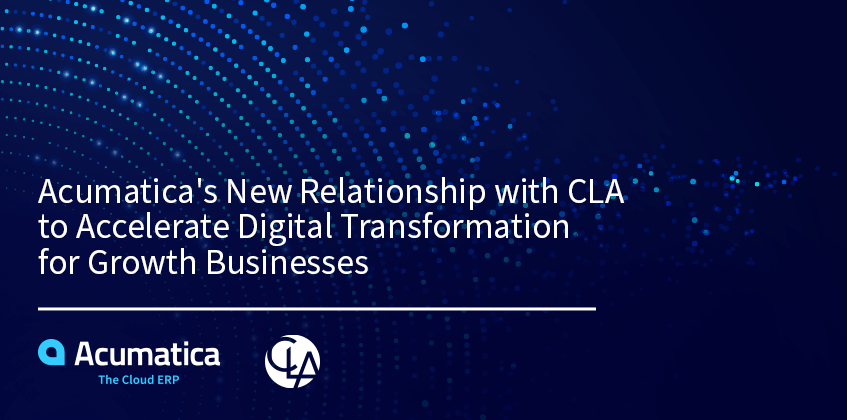 Acumatica, the world's fastest-growing cloud ERP company, is thrilled to announce a new reseller relationship with CLA (CliftonLarsonAllen LLP), one of the leading professional service firms in the United States.
The Acumatica-CLA Connection
As a premier resource for private businesses and their owners, CLA provides deep industry specialization and seamless, integrated capabilities. This combination is crucial in today's digital climate, with many of the company's construction clients undergoing or contemplating a digital transformation and seeking an ERP system that could meet their needs. CLA recognized that they were able to fill those needs with Acumatica's award-winning cloud ERP solution and clear market leadership.
"Acumatica builds leading-edge, scalable software solutions for the construction, manufacturing, distribution, and commerce industries," CLA Chief Solutions Officer Yassir Karam said in a press release announcing the CLA-Acumatica collaboration. "We're excited to collaborate with Acumatica to deliver these capabilities to our clients, helping them address productivity challenges, gain critical insights, and feel confident that their technology stack is designed just for their organization's specific business processes."
CLA's 7,500-member team delivers industry-focused wealth advisory, outsourcing, audit, tax, consulting, and digital services, providing a seamless experience based on the CLA Promise, which is "to know and help you."
Welcome Reception Fuels Expansion Talks
CLA's construction clients are already implementing Acumatica's scalable, user-friendly construction software. Recognized as one of Construction Executive's standout tech companies in 2021, it offers payroll, financials, CRM, inventory, and service management within one, comprehensive solution. Construction businesses can access accurate project information (e.g., budgets, commitments, change management, job costing, and compliance) at any time and from any location.
The welcome reception by CLA and its clients of Acumatica's value-filled construction software has fueled discussions to expand the relationship as CLA's manufacturing and distribution clients seek a centralized technology solution that covers most of their processes. Acumatica is able to oblige.
With Acumatica's manufacturing management software and distribution ERP solution, businesses can utilize the following integrated applications:
Material Requirements Planning (MRP)
Production Management
Advanced Planning and Scheduling
Order Management
Purchase Order Management
Warehouse Management System (WMS)
Project Accounting
Inventory Management
Bill of Materials Routing
There are additional applications, and together, they create a full suite of capabilities across the entire value chain of manufacturing and distribution.
The Future With Acumatica and CLA
For CLA's construction, manufacturing, and distribution clients, the Acumatica and CLA relationship opens the door to an automated, efficient, and profitable future. And because Acumatica and CLA consider customer satisfaction a top priority (check out Acumatica's Customer Bill of Rights, the first and only in the ERP world), they can be confident of personalized service before, during, and after the implementation.
To learn more about the new relationship, Acumatica's Partner Program, or Acumatica's cloud ERP software, contact our team today.