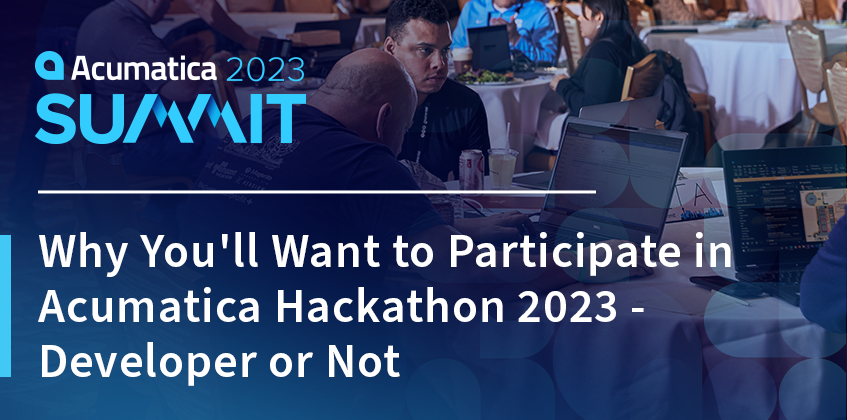 For many, FOMO—the fear of missing out—is real. FOMO sufferers worry about missing real or imagined events and feel compelled to constantly check to see if anything is happening. The good news is that developers and non-developers alike can avoid FOMO by registering for our quickly approaching and Acumatica Summit 2023, taking place January 29 – February 3, 2023 at the incredible Wynn Las Vegas, then signing up for our very popular Acumatica Hackathon event, which begins the day before the Summit officially kicks off (in this case, January 28 at 12 PM, two hours earlier than in the past, so plan accordingly).
Should FOMO not be enough to convince Acumatica community members to join us at the Acumatica Hackathon, then I have a few additional reasons—supported by actual Hackathon participants—that may do the trick.
Reasons to Attend Acumatica Hackathon 2023
This year's Hackathon is ready to deliver the same exciting experience as years' past, immersing participants in a fun but competitive atmosphere that encourages thinking outside the box and building a stronger community. In fact, thinking outside the box, building a stronger community, and having fun were my three reasons not to miss Hackathon last year.
Today, I have three more reasons, and they all stem from the feedback of actual participants, many of whom have participated in multiple Hackathons. However, before I share these reasons, let's do a quick recap of what actually happens during the event.
Developers and non-developers are placed into teams months before the actual event occurs and tasked with extending the Acumatica's cloud xRP platform functionality with innovative and dynamic applications. Each team will be ably assisted by a Subject Matter Expert (SME) and will have from the Saturday before the Hackathon until noon on Sunday when they present their solutions to our honored panel of judges.
To relieve some of the pressure felt by our judging team, we decided to solicit real-time votes from participating and non-participating attendees via Mentimeter last year, and because it worked so well, we plan to do so again this year. Their votes will be based on five categories:
Creativity
Completeness
Technical difficulty
Usefulness
Presentation quality
The judges' picks and the attendees' voting results are combined, and the top three teams are revealed on Sunday at 3 pm. For their amazing efforts, the teams receive great prizes, earn bragging rights, have their names inscribed on the Acumatica Developer Network Hackathon Cup, are recognized during the Tuesday Keynote, and have the chance to present during the Developer Track.
So, now that we know what happens at Acumatica Hackathon, here are my three reasons to attend Acumatica Hackathon 2023:
1. Learn 'Stuff'
'Stuff' is a word that encompasses, well, almost anything. However, for today's purposes, 'stuff' is referring to anything and everything related to Acumatica's cloud ERP software. How our award-winning solution accelerates success in the cloud for small and mid-sized businesses (SMBs) is a generally known fact for most people who attend the Hackathon, but that's not to say they know everything there is about our cloud ERP solution's features and functionalities. Often, businesses only scratch the surface of what our solution is capable of, and they're amazed by what they learn during the 24-hour-plus Hackathon event.
Stéphane Bélanger, Asgard Alliance Software (VAR), Developer of the Year, Developer MVP agrees. After attending Acumatica Hackathon 2022, this is what he had to say: "[At the Hackathon], we can learn so much stuff from each other, like little tricks of the trade, especially those tricks that are not necessarily documented, or are hard to find, or hard to understand. These are the things that will help make you a good developer. You can only learn so much at a given pace, and if you work with other people, you'll learn much faster. Collaboration is key."
And Shawn Burt, Paya (ISV), Developer MVP, who also attended Acumatica Hackathon 2022, said, "I've come back to the Summits for the Hackathon. I enjoy doing them and get a lot out of them. As ISVs or private developers, we can be really myopic in our day-to-day life. You don't see the full breadth of what Acumatica can do, so coming here, you can see what it can do, get fresh takes on different implementations and on the different areas you can customize."
2. Communication and Collaboration 101
Being able to communicate well may seem like a talent, but it's actually a skill that can be learned by anyone willing to put in the effort. Acumatica's Chief Marketing Officer, Todd Wells, touched on the topic of communication in his article "Empowering Your Remote Workforce with Cloud ERP Solutions," noting: "Communication in the workplace is critical to business success."
Truer words have never been spoken, and Acumatica Hackathon is the time and place where communication and collaboration are critical components to the success of the teams racing to create unique and dynamic applications.
Here's what Joe Jacob, Crestwood Associates (VAR), Developer MVP, had to say about communicating and collaborating during the Hackathon: "It's one thing to communicate or talk to somebody on the phone or through email, but when you're doing it in person, it changes it. It's interesting to be able to be close enough to other developers to see how they work and to see some of the different approaches they take with projects. The toughest part of the Hackathon is communicating with the team to try and get a cohesive understanding of what it is that you're trying to build and make sure that everybody's on board with what it is that you're trying to do. The reason to keep coming back is that you get a broader experience with people. I work from home most of the time, and we do collaborate with other developers in our own company, but that's pretty limited space."
3. Make Friends
Though making friends isn't the main reason to attend Acumatica Hackathon 2023, it is a direct benefit and ties into the communication and collaborative efforts that occur during the event. Jacob points out that, "[The Hackathon] is a great way to make connections with people you met here and have become friends with. Relationship building is very important."
Eric Petruncio, Clients First Business Solutions (VAR), felt the same way after his enjoyable Hackathon experience. "Hackathon is just fun. It's like interaction networking. I love meeting new people. I actually met one of my now co-workers at the Houston Hackathon. We became friends and then I heard he was looking for a new company, and he interviewed with our company. So, I networked and found a new developer. And then, of course, the development and learning new techniques is helpful. It's a collaboration of ideas. I love socializing directly with Acumatica developers, as well."
FOMO No More
Ultimately, there aren't too many reasons members of the Acumatica community shouldn't attend our annual Acumatica Hackathon, and a plenty of reasons why they should. Learn cloud ERP stuff, grow their communication and collaboration skills, and make new—and renew old—friendships—all while alleviating any chances of experiencing FOMO.
Registration for Acumatica Summit 2023 is open and spots for the Acumatica Hackathon are filling up fast. Today is the day to engage once again—or for the first time—in a creative and exciting event. It's well worth the time and effort.
To learn more about the Acumatica Hackathon or Acumatica Summit 2023, contact the event team at support@acumaticaevents.com.  Any questions about Acumatica's cloud ERP software, about being a part of the Acumatica Developer community, and about the Acumatica developer community resources available to members can be answered by our experts.
Lastly, please don't forget to nominate your Acumatica 2023 MVPs. The deadline is the end of day on November 30, 2022. Winners will be honored during Acumatica Summit 2023.
Looking forward to seeing everyone in Vegas and come prepared to develop a winning application!