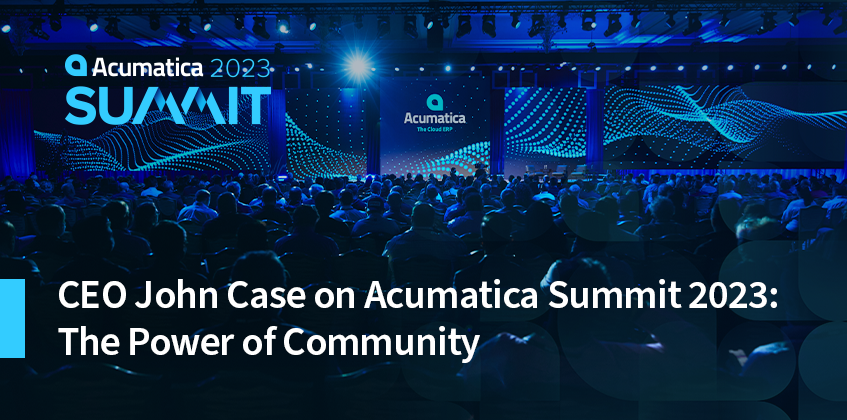 Like many other IT vendor events, the annual Acumatica Summit is an opportunity to share our latest innovations and unveil powerful new features and capabilities. We'll do plenty of that when we gather next week at Wynn Las Vegas.
But what sets our Summit apart is the emphasis we place on community and the central role our customers play in everything we do. Summit is a milestone and an important touchpoint in the ongoing dialogue we have with our customers through webinars, community forums, direct calls, group meetings, and numerous other events. Customer voices drive every aspect of our ecosystem.
Building Community: One Customer at a Time
As we emerge from the pandemic eager to engage again, we all face a difficult economic environment. We believe by listening to our customers—who are primarily small and mid-sized businesses (SMBs)—we can help them navigate these challenges.
With 32.2 million small businesses operating in the U.S. today, SMBs are vital to our economic and business landscape, but, even more than that, they are the lifeblood of our communities. They're the source of creative innovations and the heart of the digital economy. Small businesses create two-thirds of new jobs in the U.S. and deliver over 40% of the country's gross domestic product (GDP). In addition to keeping the economy running, small businesses also lead the way in innovation, producing 16 times more new patents per employee than large firms.
Clearly, creating the conditions for SMB success is vital to our global economy and to the thousands of individual businesses seeking ways to grow and thrive in today's competitive landscape. Growth comes with its own set of unique internal challenges. Acumatica has a first-hand understanding of these challenges as we've worked hard over the last decade to grow our customer base and evolve our partner ecosystem. We know what it's like to manage growth without turning your back on your principles. Aspiring to be a successful business should not change who you are fundamentally, what you stand for, and what got you to where you are in the first place.
We know our customers face unique hurdles as they look to expand. They also want to grow on their own terms and control their own futures. They need tools and processes that can help them manage ongoing obstacles while becoming efficient, agile businesses.
One way for midsized businesses to secure greater control is to have access to a community that provides support, shares best practices, and creates an environment of learning and engagement to guide businesses on their growth paths. At Acumatica, we aspire to be a community of partners, creators, and customers working together to evolve business technology to address real-world needs. The valuable input of our customers and partners informs how we update our solutions to provide customers with the best cloud ERP technology, resources, and support. We want to arm them with all the tools they need to confidently overcome all obstacles (present or future) and take charge of their own destinies.
Building the Future of Business Technology: Together
Building and strengthening our community is core to why we gather each year at Summit, and, during Acumatica Summit 2023, customers will have opportunities to explore new innovations, exchange best practices, and understand the trends that could shape our futures. We'll also celebrate great achievements with awards and recognitions, share stories of customer and partner successes, and highlight the impact our technology, sustainability initiatives, and community growth are having in the world around us.
Throughout our time in Las Vegas, the Acumatica team will be there to listen and learn—pure and simple. What we hear from our community is the basis for Acumatica's business and product roadmap for the months and years to come. Together, we're building the future of business technology—and it all begins with building community.
We look forward to having you join us at Acumatica Summit 2023. It's an informative and fun event that equips customers with the cloud ERP knowledge they can use to not only manage their daily business processes efficiently and effectively but also make their dreams of growing—at their own pace and on their own terms—come true. Multi-year Summit attendee Ethan Platt, President of American Meadows, sums it up perfectly:
You can meet people within the organization that are actually building the product and have direct influence on the direction of the platform. [It's] really important and that's one of the key reasons we went with Acumatica, and [it's] one of the key advantages of Summit. You build those relationships here, so you can leverage them down the road.
If you have any questions about Summit, please direct them to our event team at support@acumaticaevents.com. And, if you would like to learn more about Acumatica's award-winning cloud ERP software, contact us today.