With higher customer expectations, a push from relationship-driven to product-first, and a growing threat from Amazon, tomorrow's success in the distribution industry relies on decisive action from executives today.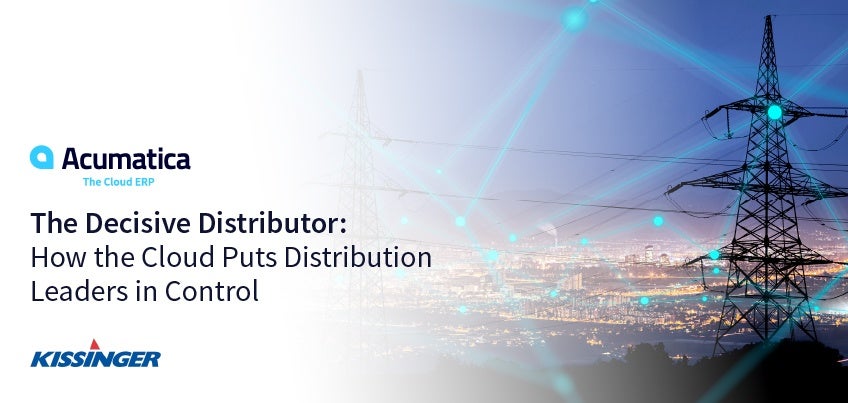 Take order, fulfill order, collect money, repeat—sounds like a simple distribution management process, right? If only that statement was remotely true. The distribution business, once built on reliability and relationship-building, has turned into a cutthroat, commoditized industry in which firms are expected to deliver faster and more accurately than ever.
This is something we've seen firsthand. Over the past fifteen years, I've watched the distribution industry enter and recover from recessions. I've seen business models rise and fall. I've watched mergers, spin-offs, and a lot of acquisitions, but it feels like the past five years has kicked everything into overdrive.
How so?
The cloud has changed everything! Distributors need information at their fingertips. Decisions need to be made quickly and having the necessary data is more important than ever. While this may feel like a challenge for some, I know just how resilient this industry is and believe with the right mentality, this could be an exciting time and a major opportunity for those ready and willing to carve out their place.
Higher expectations on behalf of the customer: Turning a threat into an opportunity
Though mistakes were never tolerated, the rise of B2B eCommerce and a new generation of buyers has resulted in new customer expectations akin to a B2C landscape. Tech-savvy purchasing departments now have the ability to work with a broader base of suppliers—something that up until recently was costly, hard to track, and painfully inefficient.
Today, it's cheaper and easier for a customer to switch suppliers. Rather than spending hours making calls to find out who has a necessary item in stock and days trying to negotiate and finalize a deal, the buyer is usually a few clicks away from finding someone who has an item in stock.
Relationships and customer service still matter to some of your customers, but now more than ever, you're just considered a way to get products. Hence the term "commoditization." It's a sign of disruption for the industry and an unfortunate reality—you're no different than Walmart or Amazon to the average consumer.
But as they say, for every cloud, there is a silver lining. If you're just a path to a product, so are your competitors. Money is still green. Purchasing departments still need the products you sell—that is, if you know how to adapt and act.
The decisive distributor: Carving your place in the new landscape
People may use a lot of "D" words when referring to the industry right now. Some may talk about the disruption of the industry or write on the importance of digital transformation. Both of these are very real, yes, but disruption simply means you have to take a different approach and digital transformation is an incredibly complex topic that is unique to each company.
These both represent courses of action, paths to an end goal. Neither of these is direct. You can say that you're going to rethink your business, you can explore options to transform your business, and you can plan initiatives around the next quarter, year, or decade.
These are all great, but Mike Tyson said it best, "Everyone has a plan until they get punched in the mouth." Possibly the most relevant quote for 2020, a year in which everyone's plans changed seemingly overnight. In fact, these are words to live by any time. For distributors, the same is true. Amazon's entry into your turf was a punch in the mouth. 2020 was a punch in the mouth. The next decade could include a lot more punches to the mouth.
But it's the ones who are resilient, agile, and most importantly, decisive, who will push to the next round.
The power of decisiveness
One of the most important skills for any leader is decisiveness. It's something that engenders respect from your peers, instills confidence in your employees, and puts your business in a position for success. In the distribution industry, decisiveness will be required to survive, and leaders need to take measured, confident action quickly when the options are provided.
Too often, however, something is missing. Whether it's the confidence (I need more information) or the data (I need to act now), lack of either results in leaders making choices too slowly, too brashly, or too cautiously.
For distributors, this could be life or death. You need to be able to spot trends in your business and the landscape at large and act quickly. Say something drastic happens—a cyclone takes out 30 percent of the vanilla in Madagascar, a strike at one of your manufacturers limits your access to their products, or a global pandemic breaks down your supply lines—it's not just about how you act, it's also how quickly.
The right information used well: Making decisions with purpose
Though intuitiveness is critical to being decisive, there's a line between acting decisively and acting brashly. Decisions need to be based in reality, using the best information available.
You can't just say "I was acting decisively" when one of your facilities gets a massive order for a SKU that they already had too much of. But you also can't let new opportunities slip away because you were waiting for your staff to email each other a critical spreadsheet.
Luckily, as technology has evolved, it has become more connected, intelligent, and accessible. The rise of cloud ERP solutions has made it easier for leaders to get the information they need—no matter where they are or how many moving parts need to be tracked.
From easy integration to powerful, spreadsheet-free analytics, cloud ERP software gives you the information you need in real time, meaning you're not only acting on the best available information, you're acting on the best possible information.
Here's how:
1. Connect the applications you need in real time
Whether you bring everything together under one technology umbrella or want to use complementing products that are the best possible fit for your business, the move to a cloud ERP solution like Acumatica will deliver the connectivity you need. Their Acumatica Distribution Edition is distribution management software that helps you manage your supply chain and logistics activities. Built to integrate with diverse applications, you can rest easy knowing that no matter where the information is coming from, it's up to date and ready to use.
Learn more from the Forrester Report, The Total Economic Impact of Cloud ERP.
2. Understand the drivers behind your data
Decisiveness is often chalked up to luck. How did [questionable decision] turn out perfectly? Maybe they just had a deeper understanding of the inputs.
Decisiveness requires you to occasionally make choices that many would second guess. If they work, you look like a genius, if they don't, you need to own your action.
Not only does the cloud keep your people, systems, and processes connected, it gives you a deeper understanding of why inputs 1, 2, and 3 connect. With a cloud ERP solution, you have the freedom and control to slice and dice numbers, connect them intelligently, and look under the hood. Referred to as Key Performance Indicators, these are metrics that connect a variety of inputs and empower your decision making.
Learn more in the Acumatica whitepaper Key Performance Indicators for Distribution.
3. Stay flexible and ready to pivot
You may not be able to predict the future, but you can at least plan for a variety of potential futures. A connected cloud ERP system doesn't only help you act more effectively in the now, it frees up your staff to focus on value-adding activities, helps them collaborate more effectively, and delivers the functionality, insights, and flexibility you need to plan for a variety of potential outcomes.
Whether it's in the form of making your forecasts easier, more accurate, or more flexible, the right solution might not be able to predict the future, but it will help you plan for a few different ones.
Get to know more in Cloud ERP Enables Business Resiliency, a free report from analyst firm IDC.
The decisive distribution firm: Powered by Acumatica, Empowered by Kissinger
Though times are tough, competition is high, and we're all but guaranteed to have at least a couple "punched in the mouth" moments in the coming decade, success is built on action. You hired your people for a reason—they know what they're doing. You've made it this far for the same reason. But even the most brilliant, decisive, and intelligent leaders can only do so much if they're stuck in the past.
That's where Acumatica and their industry-leading ERP usability comes in. Built in the cloud and ready to connect your business, Acumatica gives you the information you need—when and where you need it. Sold exclusively through a network of well-vetted partners like Kissinger Associates, Acumatica combines innovation with a personal touch—allowing you to get exactly what you want out of an ERP decision.
ERP decisions and implementations can help you empower decision makers, but sometimes—and especially without the right partner—getting there can be a tumultuous time. That's why it pays to work with an experienced ERP partner who has been there, done that, and seen it all.
As a company who has been in the business of delivering ERP solutions for three decades, the Kissinger Associates team brings considerable experience and expertise configuring, implementing, and supporting a product-based firm's move to the cloud with Acumatica. Learn more about steps you can take to become more competitive (even during a pandemic), what else goes into the ERP selection process, and get to know some of the most important reasons cloud ERP delivers for distribution firms.