Certified Acumatica Partner Dynamic Tech Services provides helpful research resources for busy distribution industry leaders, along with insightful tips for wholesale distributors that are looking to increase agility and improve or maintain their competitive edge. Today, they focus on the importance of usability and flexibility in cloud ERP and distribution management software.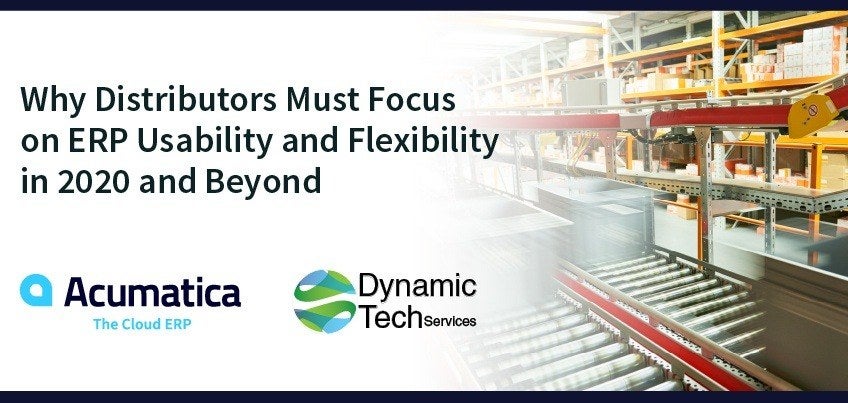 The last decade was tough for the wholesale distribution management industry, but you not only made it through, you thrived. Great job! Now, however, is not the time for you to rest on your laurels.
With the rise of automation and increasing pressure from Amazon, the small to mid-market wholesale distribution industry promises to become much more competitive over the next decade. Successful distributors will be the ones that start focusing on cloud ERP usability and flexibility right now.
This article will offer tips on how you can do that without too much effort.
How to select an ERP for usability and flexibility
As you know, choosing a new Enterprise Resource Planning (ERP) solution is a detailed process and not one to be taken lightly. The right ERP for you will be the one that fits your operational and financial needs, while helping you gain and maintain the competitive edge.
Because your distribution business will rely so much on your ERP to keep the pace of work lightning fast while operating on razor-thin margins, you will want to ensure you have done your due diligence in choosing the best solution on the market. Unfortunately, that due diligence requires research.
Research takes time and, as we established, you do not have much of that.
To help save you time, the Acumatica MVPs over at Dynamic Tech Services have put together a list of research resources for you to reference as you search out the most flexible, user-friendly, and highly effective ERP and distribution software for your distribution company's requirements.
Selecting for usability
In the past, ERP solutions required you to conform your business to the workings of the ERP and its workflows. Luckily, the past is over. Modern ERP solutions like Acumatica with their Acumatica Distribution Edition can be fully and easily customized to match the way your distribution company does business, backed by an intuitive and easy-to-use UI that just makes sense, whether you are a new user or a long-term expert.
Here are some of the latest usability ratings for Acumatica:
G2 Crowd
Acumatica leads the pack when it comes to user satisfaction and forward momentum (a calculation of buzz+growth+influence). Acumatica wins Best Usability 2019, Best Relationship 2019, and is named a Midmarket Leader in 2019, which you can read about in this Acumatica user review post.
Info-Tech Emotional Footprint Report
In 2019, Acumatica was listed as a champion ERP choice and was named the second highest-ranking ERP out of 100+ reviewed ERPs. #1 was Oracle ERP, which isn't focused on the midmarket. (Info-Tech, Emotional Footprint Report for ERP)
Nucleus Research
"For customers moving from legacy on-premises ERP systems, Acumatica provided a modern, intuitive user experience with low hurdles to adoption. The common data model and application integrations simplify data transfer from one application to the next, helping customers streamline the transition from sales order to work order and final invoice."(Nucleus Research, Guidebook: Acumatica Platform)
Here's a report from a wholesale distributor who implemented Acumatica cloud ERP and gained a competitive edge: "One of the best things about Acumatica is how customizable it is, especially the user interface. I can change screens, processes, and workflows. I can also create custom reports by connecting tables, combining tables and then generate a single table that has all the information I need." (Tayse Rugs)
Selecting for flexibility
Though usability is critical for software adoption across the company, it is only one part of the modern ERP puzzle. Savvy business leaders know that flexibility forms the other half—possibly the more important half—of overall ERP success. That is why market-leading modern ERPs, like Acumatica, will focus their resources and attention on making their solution as flexible as possible.
To enhance user flexibility, Acumatica includes:
The Acumatica Cloud xRP platform
The Acumatica Cloud xRP platform delivers a stable, secure foundation for your Acumatica ERP, as well as provides a lightning-fast platform that can be fully customized into virtually anything. Some global ERPs and solutions' providers have created their own services entirely on the Acumatica Cloud xRP platform because it is developer-friendly and easy-to-use.
Industry-standard, .NET programming framework
Most of today's developers are experienced in .NET, the industry-standard programming language that Acumatica is written in. Because the programming language is so familiar, wholesale distributors typically have an easy time customizing their Acumatica ERP to fit their needs exactly.
A wide range of off-the-shelf solutions
Distributors looking for an off-the-shelf solution that can address their evolving businesses needs can save time and effort by turning to Acumatica Certified Apps on the Acumatica Marketplace. These affordable, mix-and-match, pre-built cloud add-ons are integrated through APIs. Some can be deployed onto existing Acumatica systems in record time.
Selecting for success
Even the most user-friendly, flexible ERP system will require a well-trained staff to run it properly and extract its full value and benefits. For legacy ERPs, ongoing training required a coordinated, expensive initiative on the part of businesses, with costs that often included travel to a reseller's offices, as well as session and workshop costs. Worst of all, training could take workers out of the office for as long as a week.
Modern businesses do not have that kind of time, and they do not have money to spend on lengthy training for today's job-hopping workforce. Modern ERPs often choose to address these concerns head-on, which is why Acumatica provides free training to anyone, anywhere and anytime.
In addition to Acumatica's Open University and the always up-to-date Acumatica Help Portal, users of the Cloud ERP can also improve their skillsets with the global Acumatica User Group Community. In short, there is no lack of free training for Acumatica.
Selecting an Implementation Partner
Wholesale distributors that can rely on highly usable, extremely flexible cloud ERP software, along with a well-trained workforce that knows how to maximize the value of that ERP, will have almost everything they need to improve and maintain their competitive edge in 2020 and beyond—except for one key element. Working with the right ERP implementation and support partner can further enhance your cloud ERP's usability, flexibility, value, and benefits.
Time-strapped distributors may feel that they do not have enough hours in the day to devote their full attention to finding the right implementation and support partner. Distributors with this mindset quickly find that working with the wrong ERP solution provider can be a big mistake.
Business leaders with experience selecting an ERP solution understand that the partner can make or break an ERP installation and taking the time to find and choose the right partner can save time, money, and hassle later on down the road.
Usability and flexibility: The keys to wholesale distribution in 2020 and beyond
With the fast pace of business in wholesale distribution, plus the industry's tight margins, high needs for seasonal labor, and the continuous mid-market innovation required to compete with an ever-strengthening Amazon, modern distributors must plan ahead for success.
By choosing their ERP wisely, wholesale distributors can position themselves for long-term success with Acumatica, the flexible, easy-to-use ERP solution that doesn't restrict them.
Ready to hear what other wholesale distributors think of Acumatica? Download the Emotional Footprint Report to find out.
Since 1996, Dynamic Tech Services has been helping companies across a wide range of industries discover the benefits of ERP. As an Acumatica Gold Certified Partner, our team of experts, including 3 Acumatica MVPs, focuses on helping our Acumatica Cloud ERP customers use modern technology to compete at a high level with a lower cost of ownership. We began working with Acumatica Cloud ERP in 2011, making us one of the most senior partners in the world. Hear from our customers about our services and read our Customer Case Studies, and then contact us to get your organization moving in the right direction. To learn more, call +1 (800) 818-0574, email info@dynamictsi.com, or visit www.dynamictechservices.com.