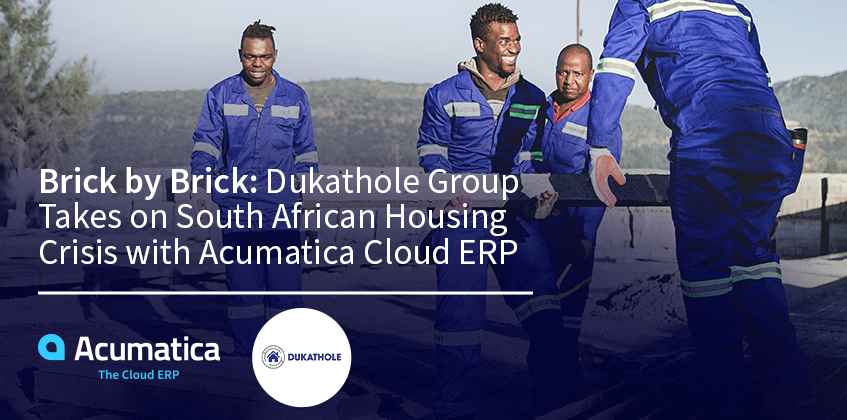 South Africa has a housing crisis. Some estimates put the shortage at 2.1 million homes, while other estimates say 3.7 million. Whatever the amount, too many in South Africa are living in poor conditions. The founders of Dukathole Group, a manufacturer of cement products and the largest brick supplier in the country, stepped up to help ease the crisis and implemented Acumatica's cloud software to aid them in their efforts.
Helping By Expanding
Charles and Landi Kieck started Dukathole over 20 years ago. The company is founded on "knowledge, quality and technical excellence," and its values include simplicity, consistency, ingenuity, and leanness. Dukathole has sustained a 52% year on year growth rate for over nine years.
In 2009, the Kieck's expanded into the Eastern Cape province of Queenstown and added another brick-making site in Herschel. They added roof tiles, pavers, lintels, and pre-cast products to their cement product line-up. Dukathole also acquired two unprofitable brick companies, INCA and Laman, and a struggling construction company, MMS Developments, over a span of three months.
The acquisitions were part of their plan to help with the housing crisis, as was their participation in the government's Reconstruction Development Program (RDP). To help them acquire and run their multiple businesses, the Dukathole team began implementing Sage Financials as their ERP system with the hopes that it would provide financial data for the bids and funding.
It didn't.
In fact, Graham Leonard, Finance & Operations Manager, describes their experience with the implementation, the ERP's capabilities, and the support they received as a negative one. "That implementation process and the way the system worked for us over a period of a year and half really did not meet our needs. It was a poor implementation, it hampered our business from a business continuity perspective, and it got to the point that it really wasn't a suitable solution for us."
Ultimately, the company discontinued Sage, which meant they had to revert to operating six divisions on six financial systems (and manually consolidating data into one Excel spreadsheet) while working towards securing the acquisitions. Graham says in the company's Acumatica customer success story that it was a "nightmare."
They needed a new ERP system, one that could provide real-time data, lower their operating costs, and supply accurate inventory while helping them improve production at each manufacturing plant, build more houses, and employ more than 450 South Africans. After reviewing various cloud-based systems, including SAP BusinessOne, Microsoft Dynamics 365, Sage Evolution, Oracle NetSuite, and Acumatica, Graham and his supply chain manager chose Acumatica.
Phased Implementation, Instant Benefits
Dukathole wanted to utilize as much of Acumatica's functionality as possible, implementing Advanced Financials, Fixed Assets, Multi-Entity and Intercompany Accounting, Inventory & Ordering Management (Distribution), Warehouse Management, Project Accounting, CRM, Portals for CRM, Outlook Integration, MRP, Planning and Scheduling, Service Management, Equipment Management, and Acumatica POS. However, they understood that a phased approach was best for them, and with the help of technology partner QEDO, brought each branch onto the system one at a time.
The difference between their experience with Sage vs. Acumatica has been night and day. Dukathole's multiple divisions are now running on a single, unified cloud ERP solution and benefitting from:
Real-time information from a single source of truth
Access to their data from anywhere with Acumatica's mobile app
Personalized dashboards to analyze information and to make data-driven decisions
Automated processes, eliminating manual data entry
Flexible reporting for pragmatic insights and details into all branches
Improved logistics planning for their supply chain
Increased inventory accuracy
The ability to easily identify unprofitable products
There are more benefits, including Acumatica's unlimited user licensing and SMS push notification capabilities. Graham also notes that Acumatica's seamless integrations with third-party applications allows them to connect with a local payroll system and comply with strict payroll and HR requirements with "just one click of a button."
Where Dukathole Goes From Here
Dukathole is growing by leaps and bounds, extending operations to eight brick manufacturing sites, two retails locations, and working with four hardware stores for distribution purposes. The company is also running 40 delivery trucks and making one million concrete bricks and building ten houses per day.
"Having one view of every single entity allows us to see if an entity is not pulling its weight so we can make adjustments quickly," Graham says. "You don't want the group to suffer if one of the other divisions is struggling."
Additionally, their goal of helping with South Africa's housing crisis has been met and continues today. According to Graham, Dukathole is the only contractor that meets deadlines and stays on budget. They've been tapped to build all of the houses in the Cape, and staying true to "The Dukathole Way," they're committed to building one extra home for every 100 government houses they construct. So far, they've donated over 30 houses.
"The flexibility in Acumatica helps to support our entrepreneurial spirit," Graham says. "Acumatica really is an all-in-one, adaptable solution that quickly enables everything you need to run your business. And it is effortless to use."
He adds, "Any ERP that you can go live with during hard lockdown and have all your staff trained and functioning remotely must be a solution for everyone to consider."
To see if Acumatica is a good fit, contact our team today. They'll be happy to discuss what it means to be an Acumatica customer and how our award-winning cloud ERP solution transforms businesses.