Acumatica Summit 2021 is almost here! Acumatica's VP of Partner Solutions is excited for attendees to visit with Acumatica ISV and Acumatica OEM partners who are eager to discuss their third-party applications designed specifically for Acumatica Cloud ERP.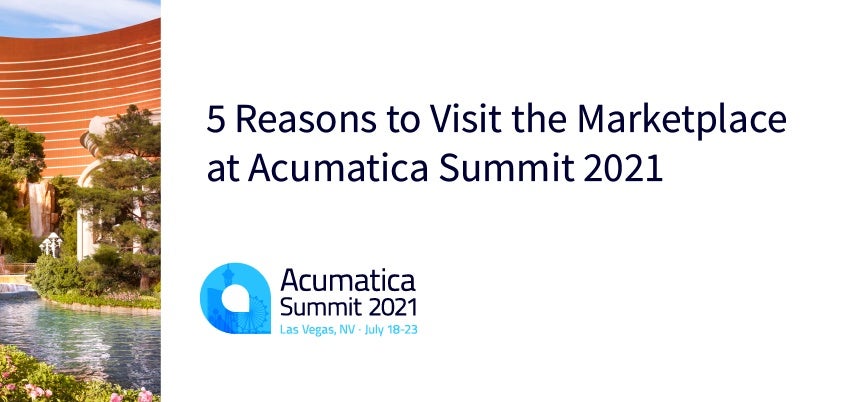 We're less than a month out from opening the doors to our annual cloud ERP event, Acumatica Summit 2021 (July 18-23, 2021 in Las Vegas, Nevada at the Wynn Las Vegas). It's the perfect time to celebrate coming together again as a community, and it's also the perfect time for businesses to recover from an unprecedented pandemic with the help of the innovative solutions provided by Acumatica and by our Acumatica ISV and Acumatica OEM partners.
The Acumatica Marketplace at Acumatica Summit 2021
Acumatica ISV partners join us every year at the Summit, exhibiting their third-party applications during the Acumatica Marketplace, packing the exhibit hall with their booths and making themselves available to answer any questions. We obviously had concerns about Acumatica Summit 2021 even happening, but we're excited and grateful that we have been able to create a safe and healthy event and that we've seen accelerated ISV enrollment exceeding Acumatica Summit 2020 levels.
The entire floor of the Lafite Ballroom with its 50,000 square feet of space will be at max capacity while still accommodating safety protocols. We can't fit one more booth, which is a great problem to have. To help promote safety in the Marketplace and throughout the Summit, we will have bracelets available, which will designate all attendees' comfort when networking with other attendees.
Red: Please respect my need for social distancing and no physical contact
Yellow: I would still like to be cautious but I'm comfortable with an elbow bump
Green: I'm comfortable with closer contact
We're also introducing a new layout that will help Summit attendees find the partners that most align with their business needs. For example, customers in the distribution industry will find Acumatica ISV partners that cater to that specific industry within the same block of booths. This is also true for those in the retail, manufacturing, construction, and general business industries.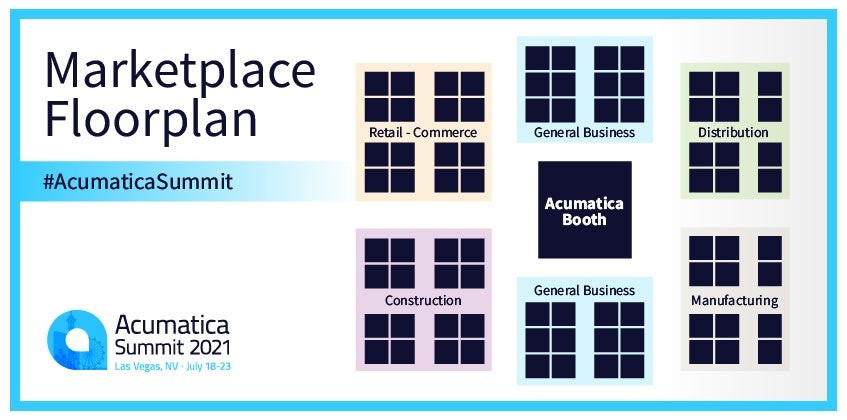 Because Acumatica is the hub of the ecosystem, our booth will be centrally located. This location allows us to connect all partners whose solutions integrate seamlessly with the Acumatica Cloud xRP Platform and extend the functionality of our cloud ERP software. And because we are consistently adding a new partner every week, the ecosystem continues to grow.
Below are some of the new Acumatica ISV additions to the Acumatica ecosystem in the last 18 months as well as quotes from various partners on why they're excited to participate in Acumatica Summit 2021.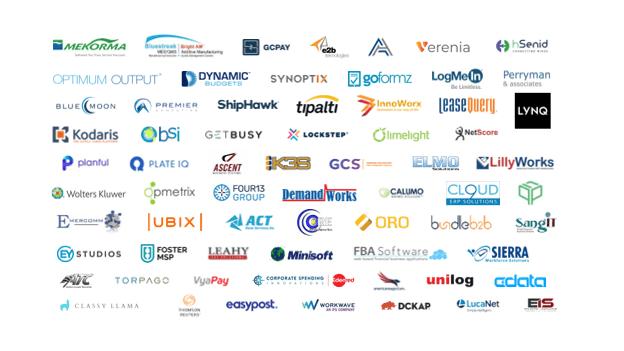 "We are excited to participate again this year in the Summit marketplace and share with partners how they can now order directly through Acumatica. We look forward to great conversations with VARs, ISVs, customers, future customers, and the Acumatica team about our iPaaS solution and how we can enable the digital enterprises of the future through integration." – Jordan Fladell, Vice President Alliances & Channel, Celigo
"SPS Commerce is thrilled to once again be exhibiting at Acumatica Summit. There is no better way to immerse yourself in the Acumatica ecosystem than by visiting the Acumatica Marketplace at the Summit. The Networking, Knowledge Sharing, and overall expertise that are on display at the Marketplace is worth the trip alone. Most importantly, this is an amazing opportunity for SPS Commerce to engage directly with our customers and partners to learn and grow together. Special thank you to Acumatica for the level of support they provide the VAR and ISV Community to help drive innovation and collaboration that ultimately leads to successful customers." – Ben Bratland, Leader of Business Development, SPS Commerce
"For manufacturers and distributors, eWorkplace Apps will be attending the Summit again to showcase new features for its successful and Acumatica-Certified Quality Management Suite (QMS) for Acumatica and debut its Process Manufacturing Suite for Acumatica solution. We are very excited to return to the Summit after attending the last one. We have seen tremendous success and made a lot of progress since announcing our partnership at the Summit in 2020 and during the pandemic, thanks to Acumatica's ever-growing platform and continued emphasis on its ISV community." – Sahib Dudani, CEO, eWorkplace Apps
"Solver is excited to return to the Marketplace this year to announce an agreement for Acumatica to distribute Solver's Corporate Performance Management (CPM) solution through Acumatica Partners! With Solver's new QuickStart offering, customers are up-and-running with financial reports, budgeting, forecasting, and dashboards in just ONE day." – Nils Rasmussen, CEO, Solver
"To deliver exceptional customer experiences that enable merchants to compete in today's digital-first economy, B2B and B2C businesses need to abandon complex monolithic systems in favor of a complete digital transformation. The combination of BigCommerce and Acumatica creates a sophisticated solution to unlock greater value and operational efficiencies for businesses looking to align with the modern pace of business." – MaryAnn Bekkedahl, SVP Business Development, BigCommerce
The Acumatica ISV community is growing, both nationally and internationally. Unfortunately, some of our international partners will be unable to join us during Acumatica Summit 2021 due to travel restrictions, but their—and all of our partners'—efforts continue to accelerate the migration of companies around the world to a modern, integrated cloud ERP solution. And the migration results in successful, connected businesses.
Reasons to visit the Acumatica Marketplace
We've already pointed out that the Acumatica Marketplace is going to be a safe event with plenty of space to exhibit and is one reason to visit the Acumatica Marketplace, but there are more:
Learn about new products and technologies that can support your business. This is an opportunity to speak directly with the people who developed the applications. Ask questions and request a demonstration in real time. The information the ISV provides will be specific to your needs.
Meet like-minded companies as well as other Acumatica users. The Acumatica Marketplace is a place to learn from and exchange ideas with other companies in the same industry and with other Acumatica users. This is the time when we can gather in one place and work towards accelerating success in the cloud.
Compare and source products and services: Online research is a huge advantage for today's customers, but it doesn't erase the fact that seeing a product and service up close and personal provides details/insights not available from a screen. As well and as already mentioned, Acumatica ISV and Acumatica OEM partners will be able to discuss exactly what their applications have to offer based on your business requirements.
Meet the Acumatica team: Acumatica CEO Jon Roskill notes, "Unlike our competitors, we don't hide from our community members; we seek them out." We seek them out because we want to grow relationships and because we use feedback from our customers, partners, and developers in our twice-yearly releases. The Summit provides an opportunity for attendees to connect with our team and share what works, what doesn't work, and what you would like to see happen with our cloud-based ERP solution roadmap.
Connections, connections, connections: The Acumatica Marketplace allows partners, other company representatives, Acumatica end users, and the Acumatica team members to engage in impromptu networking and learning in a semi-casual atmosphere with no set agenda—the only agenda is to make new connections and rediscover old ones.
Witness Acumatica in action at the Acumatica Marketplace
All of 2020 and the beginning of 2021 has been a wake-up call for businesses around the world. The pandemic altered the way we do business with transforming into a remote workforce being at the top of the list.
Companies that already implemented Acumatica, a future-proofed ERP solution, found that they were able to easily access their ERP data and connected modules remotely, which is an inherent feature of cloud ERP solution. In Future Proof Your Business Starting with ERP, Divya Ganesh, Director of Product Marketing, Acumatica, writes, "Simply put, a future-proof ERP solution is a modern, cloud-based ERP system that allows you to adapt to changing circumstances."
She continues, "The ERP system should be based on an open, flexible platform for easy integration with critical third-party applications. It should be updated regularly through continual investments in emerging technology. And it should provide company-wide access—from wherever and whenever—to a single source of business truth. The result is a fully connected business that achieves continuity and resiliency in the face of an unknowable future."
At Acumatica Summit 2021 and at the Acumatica Marketplace, attendees will be able to witness Acumatica in action. They will learn how our cloud ERP software, which is enhanced by seamless integrations with Acumatica ISV applications, can help them achieve success regardless of the changing environment. Additionally, attendees have access to the full catalog of third-party applications in the online Acumatica Marketplace—available 24/7.
Don't wait to register for Acumatica Summit 2021. Connect with Acumatica ISV partners at the Acumatica Marketplace and make good use of the Event App to prepare your agenda, register for sessions, and book meetings in advance to get the maximum outcome from our safe, healthy, and fun event.
If you're interested in learning more about Acumatica developers and why they decided to be a part of the Acumatica community, research ADN (Acumatica Developer Network). The expert advice, resources (including the Acumatica Open University), and tools provided by ADN are invaluable. Contact our Acumatica Partner team today with any questions.
You can also contact our planning team at eventcs@acumatica.com with any questions about the Acumatica Marketplace or the Summit. We look forward to seeing you in person in Las Vegas!