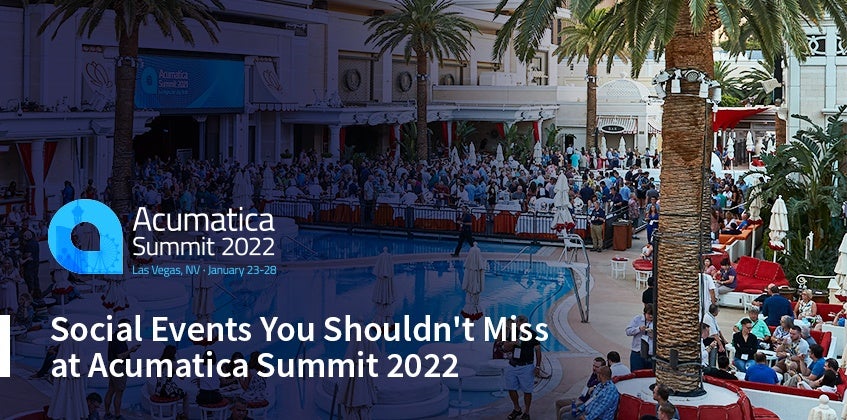 At Acumatica, we often describe our annual Summit as "innovative," "affordable," and "educational." We also include "fun" because, well, it is. Though laser focused on helping the Acumatica community increase their knowledge of and derive value from our cloud ERP solution, we know that learning is best served with a side of entertainment. Thus, the agenda for Acumatica Summit 2022 (January 23 – 28, 2022 at the Wynn Las Vegas) is liberally sprinkled with social events no one should miss.
Acumatica Summit 2022 Social Events
Saturday, January 22, 2022: Acumatica Hackathon 2022
Having the distinct honor of kicking off our cloud ERP event for the past six years, the Acumatica Hackathon is not necessarily a "social" event, but it does fall into the category for several reasons.
First, it begins prior to the official start of the Summit (though continues into January 23rd). It's an extracurricular activity that brings developers, customers, partners, and a subject matter expert (SME) together in pre-selected teams. The teams compete to create a winning application for Acumatica's cloud xRP platform. One can almost see ideas arcing from person-to-person during the good-natured but fierce competition, creating an electrified atmosphere.
Second, the Hackathon is always a good time. Acumatica's Platform Evangelist, Mark Franks, writes about this very thing in 3 Reasons You Don't Want to Miss Acumatica Hackathon 2022. "Who doesn't want to have fun? And when you can have fun during a professional event, so much the better. Hanging out with people that are just as excited about Acumatica's cloud-based ERP solution as you are is a perfect way to get the creative juices flowing, and you also get to enjoy free food and beverages."
And third, as Mark indicates, participating attendees enjoy delicious refreshments throughout the event, which is a prerequisite for any social event.
Sunday, January 23, 2022: Welcome Reception
The Acumatica Marketplace is the time and place where Acumatica ISV partners exhibit their innovative and extensive third-party applications specifically designed for Acumatica Cloud ERP. From 5:00 PM to 8:00 PM on the first evening of the Summit, the annual Welcome Reception gives attendees an opportunity to learn about new products and technologies, meet like-minded companies and other Acumatica users, compare products and services, meet the Acumatica team, and network.
The best part is they get to do all of this while enjoying perfectly prepared appetizers and cocktails. It's a great social activity that pays amazing professional dividends.
Monday, January 24, 2022: Yoga
That's right, yoga.
This is a popular event that was previously held on Tuesday of the Summit, which is the day after our Summit Celebration party (see below). Because it's scheduled at 6:15 AM (that's right, 6:15 AM), we decided it would garner even more support Monday morning.
Yoga instructor Justine Crowley, Cloud 9 ERP Solutions, is a Reiki Practitioner and nutrition enthusiast with a passion for helping her clients create a sustainable mind, body, and soul connection. Attending the yoga session will center attention, calm the mind, and sharpen concentration for the week ahead.
Monday, January 24, 2022: Summit Celebration Party & Dinner
Probably the most anticipated social event of the Summit, our Celebration Party & Dinner is all fun and no work (unless you count the continued networking that takes place).
Every year's celebration party has its own flavor, but they all include incredible music and a sumptuous meal. Of course, libations are provided.
During Acumatica Summit 2021, the Celebration Party took place at the Wynn's outdoor Encore Beach Club, which we were able to enjoy due to the warm July weather. This year, the Summit Celebration Party will be taking place at the Wynn's XS Nightclub. The Wynn describes it as "an elegant and intimate environment surrounding Encore's European pool" with "lavish indoor seating" available.
It's an award-winning space that attendees should see and experience for themselves.
Tuesday, January 25, 2022: Tuesday Morning Run
Like the yoga session, the Tuesday Morning Run (previously called the "Fun Run") is a popular event. Participants meet in the Main Entrance Lobby at 6:00 AM for an hour run down the Las Vegas Strip.
Acumatica CEO Jon Roskill listed this social event as one of the reasons Acumatica Summit 2020 was the best one yet. He wrote, "For the Fun Run, you'll have the chance to see the Las Vegas Strip devoid of people while you burn off calories from the previous night's entertainment."
What could be better than that?
Perhaps the last two not-to-be-missed social events.
Tuesday, January 25, 2022: Women in Tech Luncheon
Another extracurricular social event is the Women in Tech Luncheon, back this year due to continued high demand. Though not exclusively for women, this event does focus on advancing women's roles in the tech industry.
This year's speaker is JJ DiGeronimo, the founder of Tech Savvy Women (TSW), an award-winning author, a thought leader, strategic advisor, and more. She will be offering insightful strategies for women on how to elevate relevance, meet professional goals, and accelerate success in the workplace.
Because it's well-attended and spots are limited, advance reservations are highly recommended.
Tuesday, January 25, 2022: Closing Reception (NEW)
The Closing Reception is a brand new event for Acumatica Summit 2022. Summit is an exciting, action-packed time, so we decided a relaxing reception would cap the event nicely.
Putting "Fun" Into Cloud ERP
With so many social events lined up for Acumatica Summit 2022, attendees will have to work hard not to have fun. Plus, the five-star Wynn Las Vegas, located at the north end of the Las Vegas Strip, has more than enough amenities to keep people entertained when they're not learning and networking. The amenities include:
For any questions about the Summit, contact the event team at support@acumaticaevents.com. For any questions about our cloud-based ERP solution, contact our team today.