For the best ecommerce software solutions to be effective, it must meet certain requirements. As ShipStation explains what they are and why they're important, Acumatica customers can be assured that our true cloud ERP meets them all.
Savvy online retailers are always on the lookout for the best ecommerce software solutions to help them scale their businesses. And the most successful know the best platforms share certain criteria that empower your workforce to be flexible, productive, and efficient. You must choose a solution, such as Acumatica Commerce Edition, that includes these three important characteristics:
Cloud-based
Seamlessly integrate with existing systems
Promote mobility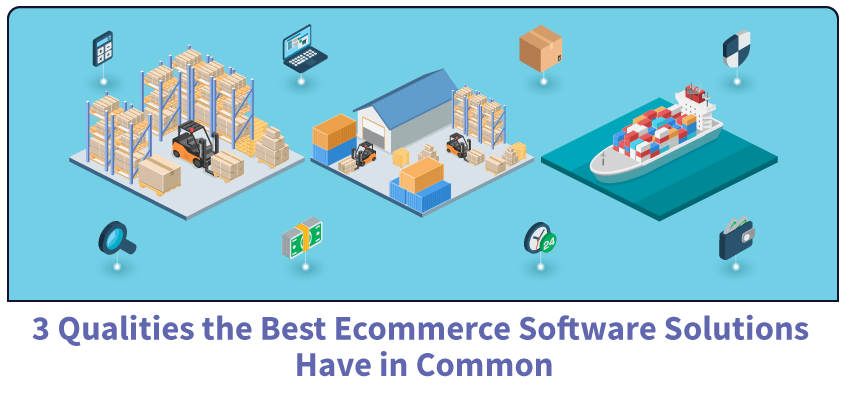 Working in the cloud
On-premise software installations are on their way out. More and more businesses see the value of cloud computing and are making the transition.
Cloud-based solutions enable you to access data from anywhere with an internet connection. In fact, your employees don't even need to be on the same continent as the office to complete projects! As a result, it's easier for your workforce to collaborate and, in turn, increase productivity.
On-premise software requires purchasing, maintaining, upgrading, and quite often, a larger IT department to manage it all. But when you work in the cloud, you can lower your upfront costs for hardware and software and decrease maintenance costs.
Finally, as your business grows, your needs will change. You need a solution that is flexible enough to rapidly scale right alongside your business.
Born in the cloud, both Acumatica and ShipStation have these elements in their DNA. It's what makes them so valuable for small and medium-sized businesses.
Seamless system integration
Synergy. It's not just that word from the break room inspirational poster. Creating a whole greater than the sum of its parts is crucial for running an efficient business.
In today's ecommerce environment, data lives everywhere. This can be a problem. Most merchants sell on multiple channels and fulfill orders using multiple carriers. This often results in working with more than one ecommerce software solution.
The key is coordination and integration.
This is where ShipStation comes in. ShipStation enables ecommerce companies to import, manage, and ship orders from a single dashboard. Goodbye, multiplicity. Hello, system integration.
Here's what synergy looks like:
Fewer risks of data redundancy and inconsistency
Increased productivity with seamless syncing, automated processes, and fewer work stations
Better decision-making and faster implementation due to improved data accessibility
Kensium Solutions had these efficiencies in mind when they built Acumatica's integration with ShipStation and ecommerce software solutions like Magento, creating valuable two-way communication between systems to optimize inventory management, ordering, fulfillment, and ultimately, profitability.
Now that's inspirational.
Going mobile with ecommerce software solutions
An average user accesses about 30 different apps per month and up to 10 apps per day. Apps are great for repetitive tasks that serve a specific purpose. Think email, text messages, and banking. Think productivity.
Enterprise mobility is a growing priority. As a business owner or manager, you need to have your finger on the pulse wherever you are. Mobile access to business operations is crucial. And this doesn't just mean the ability to send email.
Both ShipStation and Acumatica have embraced this fact.
ShipStation's industry-first mobile app allows merchants to have their shipping process at their fingertips. They can manage and track orders, scan-to-view orders with a phone camera, generate end-of-day scan forms, and even receive alerts on a smart watch. Merchants can also remotely print shipping labels so they'll be available as soon as they walk in the door.
Acumatica's award-winning app provides quick access to core tasks, so sellers can stay proactive and competitive—no matter where they are.
Promote efficiency and productivity with the right ecommerce software solutions
If the best ecommerce software solution you're researching has all three of these elements—the cloud, system integration, and enterprise mobility—you can be more confident about investing in it. That's why the team at ShipStation is thrilled to have partnered with Acumatica. The two companies are cut from the same cloth.
When merchants combine these powerful tools, they can create an exceptionally efficient business.
Contact us if you have questions about how to save time and money with ShipStation's ecommerce software solutions. We're available any time and would love to be of service!