Businesses are realizing more and more that becoming an online retailer is a necessity rather than an option. If your business is (or is becoming) an eCommerce vendor, then you should know the essential features your eCommerce fulfillment software must have to ensure customer satisfaction and retention.
Today, businesses ranging from brick-and-mortar retailers to manufacturers and distributors are looking for ways to reach more customers by offering their products on the web. But for businesses that want to sell online, setting up an eCommerce website (which should include the right eCommerce fulfillment software—more on that in a moment) is just one part of the solution.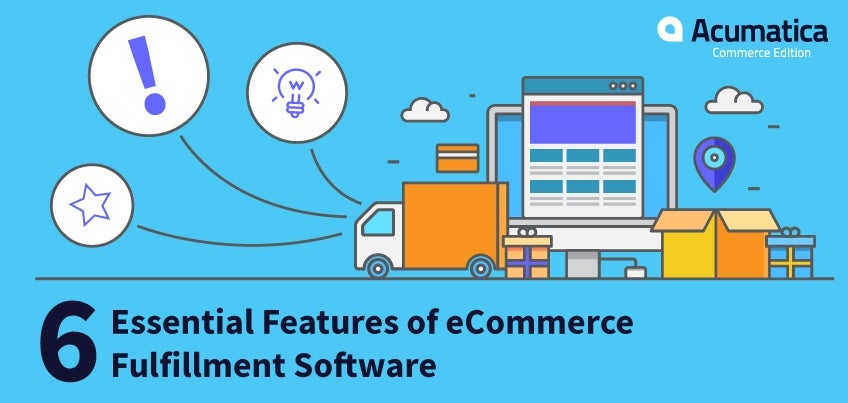 There are many other important elements, including accepting payment, tracking orders, shipping orders, and providing customer access to delivery status and returns. These elements will be difficult to implement if you haven't optimized your fulfillment process, which includes supply chain, warehouse, and pick-pack-ship.
In the end, your overall customer experience should be fast, seamless, and hassle-free. Just take a look at some eye-popping numbers:
Increasing customer retention by 5% increases profits by 25% to 95% (Harvard Business Review)
It costs 5x more to attract a new customer than to retain an existing customer (invesp)
Customer loyalty relies more on reducing the customer's efforts than delighting the customer (Harvard Business Review)
59% of customers surveyed said a bad experience caused them to stop buying from a company (Forbes)
80% of businesses believe they provide excellent customer service, but only 8% of customers agree (Forbes)
Optimizing your fulfillment process through eCommerce fulfillment software will take you one huge step closer to achieving true customer satisfaction (and repeat customers).
eCommerce fulfillment software essentials
Whether you run your own website using Magento or BigCommerce, manage your eCommerce site through a service such as Shopify, or use online marketplaces such as Amazon or Etsy, here are six essential features you should look for in your eCommerce fulfillment software:
You can pass online orders immediately to the fulfillment software. This not only speeds up order processing, but also eliminates the need for time-intensive, error-prone manual entry. Getting each order processed quickly and accurately is an important first step to customer satisfaction.
You can connect seamlessly to major shipping partners, such as FedEx, UPS, and USPS. This ensures your customers will benefit from the most timely and cost-effective delivery options.
You can automatically print packing slips, shipping labels, pick lists, and invoices. This helps reduce the time needed to gather the items and cross-reference them so you're not pulling the wrong merchandise.
You can notify customers of order status. Customers should be notified when their order is received, informed when it is shipped, and given tracking information so they can monitor the item through final delivery.
You can display accurate inventory at all retail locations. Customers should know when a requested item is out of stock, whether they're visiting your brick-and-mortar store or shopping on your website.
You can generate purchase orders to suppliers when inventory stock runs low. Automating this process ensures item availability at all your retail locations and could save you money on storage/warehouse costs utilizing just in time (JIT) inventory.
Additional features the right retail fulfillment solutions should provide
Popular fulfillment applications offer many other useful features. Some additional options to look for in retail fulfillment solutions include:
Easier returns and credit. Online orders have a higher probability of returns than purchases made in the store. Whether you're offering a refund or a store credit, customers should be able to return items easily.
Multiple fulfillment and return options. True omni-channel retailing lets customers purchase items online, in the store, or through mobile apps. Customers may even choose to shop online and pick up the item at a nearby store. Likewise, offering the ability to return an online purchase at a nearby retail location can increase customer satisfaction.
Support for multiple warehouses. Having fulfillment software that integrates with your Warehouse Management System (WMS) helps you deliver the optimal customer experience by choosing the warehouse or distribution center closest to your customer.
Access to a customer portal. Repeat customers may want to manage their accounts from a customer portal to update billing and delivery options, monitor order status, or view previous orders.
For Acumatica customer SHOEBACCA—an online company that sells athletic shoes at competitive pricing—Acumatica Cloud ERP Commerce Edition was their choice for an end-to-end eCommerce fulfillment solution.
"We wanted a fully integrated solution that could handle our eCommerce solution, Magento, and a warehouse management system and finance, one that could handle a high degree of customization. It also needed to scale and be flexible to meet our needs as we kept growing," says SHOEBACCA's IT Director Thomas Finney.
Acumatica Commerce Edition, which provides the Kensium Magento Connector as a key feature, offers a complete back-office solution for your eCommerce business, including Financials, Inventory Management, Fulfillment, and Order Management. It integrates seamlessly with popular eCommerce platforms and marketplaces.
"Acumatica has been behind our success, and their support team has been integral in making sure that we've been as successful as possible," Finney says. "I would definitely recommend Acumatica to someone looking for a new ERP solution. Acumatica would be a great asset to anyone trying to expand its eCommerce platform."
You can watch SHOEBACCA's video testimonial for more details.
For more information on integrating your eCommerce site with your back office, you can contact our team of experts and download our free white paper, The Best eCommerce Starts with Tighter Integration.