There's no single solution that can be everything to every business. To become a connected business in the postmodern ERP world, businesses will need to connect multiple cloud services with seamless cloud ERP integrations.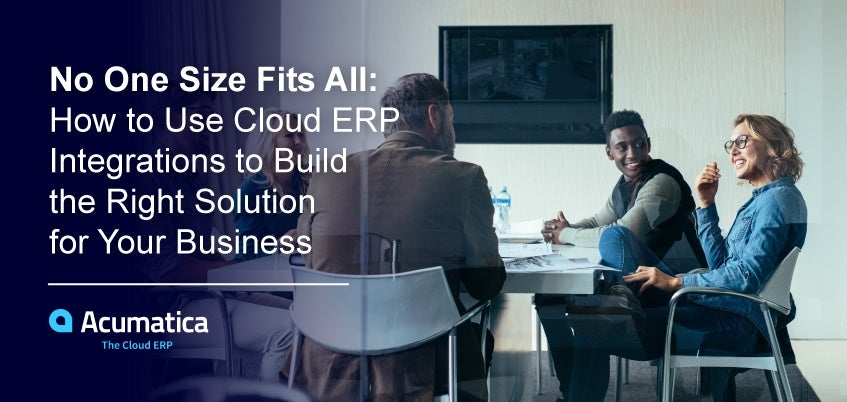 The topic of cloud ERP integrations and the importance of becoming a connected business isn't a new one. Neither is the idea that not one ERP solution can meet all the business management needs of an organization. Nevertheless, these two subjects must continue to be addressed as more and more businesses begin shifting their applications to the cloud and searching for the right ERP solution for their needs.
Living in a postmodern ERP world
Sean Atkins, president and founder of ACC Software Solutions, wrote a post examining the shift in ERP strategy from the 1970s and 80s to the present. In it, he highlights how disruptive technologies, such as the cloud, application programming interfaces (APIs), and the SaaS model, have all contributed to users now being able to forgo having to either pick the best-in-breed approach or the suite-based approach and, instead, have the ability to mix the two options, becoming a connected business.
This is Gartner's postmodern ERP.
While he doesn't specifically call out postmodern ERP, Acumatica CEO Jon Roskill also wrote a recent post about digital transformation and the importance of being a connected business. This happens through cloud ERP integrations and open APIs. He explains that businesses today are, indeed, moving from legacy systems to running multiple best-of-breed cloud applications (e.g. Microsoft 365 for email and collaboration, Salesforce.com for CRM, Acumatica for ERP, and more) to manage a single organization, but he points out a major challenge.
The 90s called. They want their technology back.
"In my day-to-day world of cloud ERP, we see typical small and midsized business running on ledgers, spreadsheets, and worst of all, disconnected legacy accounting systems, all of which creates siloes of redundant or conflicting data," Jon writes. "Digitizing those siloes won't fix the problem. Taking traditional analog processes and making them digital only disguises the dysfunction. For a business to begin to transform (modernize, really, and become fully interconnected), it must become a connected business, one that synchronizes all records, data sources, and systems under a single pane of glass."
And that requires a modern cloud ERP solution that can easily connect with other best of breed solutions.
For example, unlike modern cloud ERP solutions with open APIs, legacy platforms are using file-based importing and exporting. They're required to get a file dump and put it into an FTP server, which then requires the other system to pick it up as a batch process. If something goes wrong—even as simple as having an extra comma, space, or another character—the process must start all over again.
Outdated and ineffective legacy ERP practices are no longer necessary. We live in a day and age with amazing innovation in technology, services, and solutions. Moving to a connected cloud services world is happening as we speak. Customers can move between their third-party applications without feeling the seams between the products and the services.
These services, however, can vary from industry to industry. A time-entry application that's popular in manufacturing may not be as popular in construction. There are different application requirements and wants based on each business' processes, which means the cloud ERP solution that a business chooses must be able to integrate seamlessly with multiple third-party applications.
This is where open APIs are critical in becoming a connected business. Open APIs use a universal language recognized by multiple software services and data, and if presented correctly with low code or no code, requires minimal effort on the part of the developer or developers.
In addition, an investment in a modern ERP solution isn't just about connecting to existing solutions—it's also about solutions that might come into play in the future. Innovation is happening everywhere. What is the next best-of-breed application that is going to take your industry by storm? Is your investment future-proof?
The benefits of utilizing a cloud ERP solution that allows for integration through open APIs include having:
A core system of record that interacts seamlessly with any cloud service application the business requires (e.g. Adobe Sign or DocuSign for electronic signing or Smartsheet for project management)
Anytime, anywhere access to critical applications and data
Automated workflows between systems
More time to spend on higher-priority duties with the elimination of manual data entry (which also leads to less errors)
And more
Modern solutions for the postmodern cloud ERP world
Ultimately, businesses in all industries are going to have to decide how they're going to proceed in this postmodern cloud ERP world. Their search for the right solution must rest on the idea that no one-size-fits-all option exists. Instead, they need to search for an ERP vendor who can provide the cloud ERP integrations they specifically need for their business and industry, like Acumatica.
Acumatica was founded on an open, flexible platform, the Acumatica Cloud xRP Platform. It's built on the world's best cloud and mobile technology with standard web technologies and development languages for easy customization and integration. Companies can expect to see constant improvements through our bi-annual releases and investment in R&D as we continue upholding our innovation standards.
Additionally, we rely on our Acumatica ISVs and their third-party applications to extend the functionality of Acumatica cloud ERP. Acumatica ISVs receive everything they need to succeed, including a modifiable source code to Acumatica applications, report writers, dashboards, and document management, which, in turn, allows our customers—who have unique business needs—to succeed.
For example, construction customers find estimating to be an important functionality. With Acumatica ISV ProEst, they have a powerful estimating solution that communicates with Acumatica Construction Edition with a click of a button. They may also need Procore, the world's leading construction management software, and can use the Acumatica/Procore integration to extend their capabilities. eCommerce businesses can also use solutions provided by Acumatica ISVs, such as the Magento/Acumatica Connector, which connects Acumatica with the world's leading eCommerce platform.
Though no one-size-fits-all solutions exists, Acumatica, with its seamless cloud ERP integrations, offers a platform that not only makes it easy to connect with other solutions you organization uses and depends on today, but also presents a platform that serves our customers well for their future needs. A member of the OpenAPI Initiative (OAI), Acumatica is committed to supporting an open world full of connected, succeeding businesses through our flourishing Acumatica ISV community.
Questions about how Acumatica's cloud ERP software can help you build the right solution for your business? Contact our team today.