As a Magento user, you will find using Acumatica's eCommerce Back-Office System Evaluation Checklist as an easy way to analyze and compare your eCommerce ERP options. Our free download offers you a detailed look at different ERP vendors and helps you determine which one would best fit your company's business management needs.
With Magento as your eCommerce platform, you have a flexible, customizable, and extensible front-end solution. You're able to offer your customers first-class service across all shopping channels. What else do you need? The answer is a cloud-based eCommerce back-office system that syncs with Magento and helps you run your entire business from a centralized viewpoint. However, it's vital that you select the right system. To help you with this decision, Acumatica has put together a new eCommerce Back-Office System Evaluation Checklist.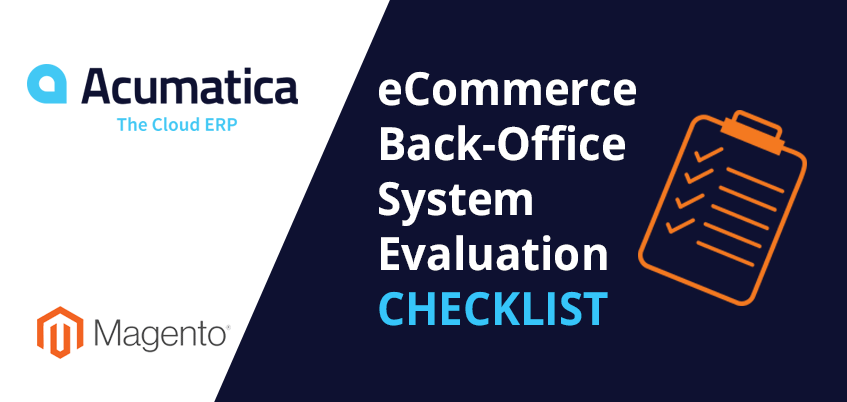 What the eCommerce Back-Office System Evaluation Checklist will tell you
Our free checklist breaks down details of Acumatica's omnichannel ERP against those of two top vendors in the market today. You'll be able to compare each vendor's product based on five important categories:
Productivity
Functionality
Technology
Value
Risk
The five-page checklist provides the questions we think you should be asking yourself as you research integrated eCommerce ERP solutions. It also provides the answers by noting the many features – and the resulting benefits – the right solution should deliver.
For example, the eCommerce back-office system you choose should offer a seamless integration with Magento, be easy to use, and provide a single version of the truth through a single database. It should also have multi-entity capabilities, have a combined CRM and ERP database, and be a true cloud solution. There are many additional features within each category, and our evaluation checklist checks off each one.
Why comparing eCommerce ERP solutions is important
We live in a time where consumers have a lot of shopping options. The fastest-growing option is online shopping. Customers, however, still expect to shop by using their phones or visiting a physical store. Your business needs to deliver this multi-channel shopping experience if you are to succeed.
You can meet these changing and expanding expectations with an omnichannel ERP, which provides the eCommerce back-office system you need. And when you decide to implement an integrated eCommerce ERP, your decision should be based on facts. Our free checklist, which you can download right now, provides the facts needed to make a smart decision.
It's also important to note that how your business will operate in the next five-to-ten years is dependent on the eCommerce back-office system you choose today. One company that understands this truth is xByte Technologies, Acumatica's 2017 Customer of the Year.
xByte offers custom refurbishing of Dell servers and network switches. The company focuses not only on producing high quality IT equipment but also on how they serve their clients.
Founder Tom Santilli says this was a priority for him when he started the company, "I wanted to treat customers how I expected to be treated."
With their top-notch service and products, the company experienced incredible growth; they needed to find a modern, integrated eCommerce ERP system to handle their complex business operations. Acumatica and Acumatica Commerce Edition beat out competitors NetSuite and Microsoft Dynamics because of our flexible integrations, automated accounting features, and better visibility into operations, among other things.
A standard part of Acumatica Commerce Edition is the Kensium Magento Connector, which combines Acumatica cloud ERP with Magento. Because of this tight integration, eCommerce companies can now use Acumatica as a comprehensive business management platform for all their eCommerce needs. xByte used this key application to improve their eCommerce website, which then improved their sales and streamlined their sales operations.
They also experienced increased productivity through automating their invoicing, accounting, and warehouse operations, along with using financial dashboards for one-click access and accessing their business data anywhere and at any time. Check out xByte's full success story with Acumatica's eCommerce back-office system for yourself.
Download your eCommerce Back-Office System Evaluation Checklist today
Now is the time to download our free checklist. Your business – and your customers – will benefit from an integrated eCommerce ERP. The right cloud-based ERP offers operational efficiency through continuous connection between your eCommerce front end and back office systems. This results in automated data synchronization, elimination of redundant data and duplicate entries, and more – all of which deliver increased profits for you and increased value for your customers.
As you review the checklist and compare Acumatica's omnichannel ERP with other vendors' offerings, we hope you'll contact us with any questions or comments. We want your eCommerce business to find the right eCommerce back-office system for you.