eCommerce success is more than setting up a website with a shopping cart. There's a lot that goes on behind the scenes through your back-office system and integrating it with your website will pay major dividends.
Do you remember the children's song/game/rhyme, "The Farmer in the Dell"? It starts with the farmer taking a wife, the wife taking a child, all the way down to the mouse taking the cheese, and ending with the refrain, "The cheese stands alone." No one wanted to be the cheese standing alone.
What does this have to do with eCommerce?
Acumatica's free Whitepaper, The Best eCommerce Starts with Tighter Integration, explains: "Your eCommerce function cannot stand alone."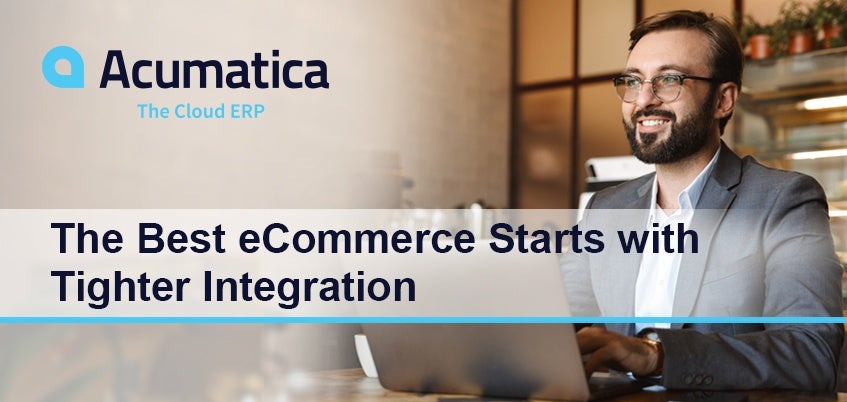 Don't let your eCommerce stand alone
eCommerce is fast becoming the go-to shopping option for shoppers, and your eCommerce success rests on adapting your business—whether business-to-consumer (B2C) or business-to-business (B2B)—to their expectations. These expectations include not only having an eCommerce option but being able to interchangeably use all sales channels of a business, such as mail ordering and a brick-and-mortar store. This is known as "omnichannel retailing."
The Whitepaper states, "The beauty of omnichannel retailing is that, regardless of how or where the buyer purchases the product, the buying experience is transparent to the customer. For example, in an omnichannel environment, customers can purchase online, receive the product in the mail, and return the product to a physical retail location."
For this transparency to occur, your B2C or B2B eCommerce software cannot stand alone. It must integrate with your back-office system, which manages your financials, warehouse management, and fulfillment processes, as well as captures and analyzes important customer data for better decision making. The two systems must synchronize their efforts and communicate in real-time in order to provide the customer with a seamless and transparent transaction.
"A tight integration between your eCommerce platform and your ERP, coupled with the support of friendly and helpful staff, is your opportunity to roll out the welcome mat to your store, providing your prospects with the products and services they want," the Whitepaper notes.
If you download the Whitepaper, you'll learn:
The 7 ways your eCommerce platform (website and shopping cart functionality) and your ERP (internal functionality) should interact for the best customer experience
How to set up a winning business case for setting up an integrated eCommerce and cloud ERP presence
How to build a successful eCommerce strategy
The information customers expect from your eCommerce website
What to look for when comparing your eCommerce software solutions
Taken together, these lessons will help you set up an online store that tightly integrates with your cloud ERP solution. A business that has taken these lessons to heart—with tremendous results—is Ray Allen Manufacturing.
The company provides high-quality K-9 gear and equipment to military and police departments, many of which they manufacture themselves. They also have a consumer-based product line with J&J Dog Supplies. Their multiple companies (with different customer segments and product lines) needed a modern cloud ERP solution that could integrate with an eCommerce platform.
They chose Acumatica's cloud ERP software and Acumatica Commerce Edition, which integrates Acumatica's Financials, Sales, Inventory, CRM, and Fulfillment systems with your eCommerce platform.
"We chose Acumatica primarily because of its flexibility and its ability to integrate with an eCommerce platform. We rolled with Magento at the same time we went with Acumatica and we were able to integrate all of our websites directly into our ERP. It just really streamlined the whole process for us," says VP of Operations John Oakley.
The benefits include streamlining their operations and improving customer service, among many others. "We can do a lot of things better with Acumatica," John says.
Watch their video below and read their customer success story for more details.
Strengthen your eCommerce presence
Providing your customers with multiple venues for their shopping ease is the best way to ensure success, but it's more than just setting up a website and a shopping cart. If you download the Whitepaper, you'll find the information you need to set up a complete shopping experience, which includes integrating your B2C or B2B eCommerce solution with your cloud ERP system, ultimately strengthening your eCommerce presence.
"Technology continually changes, customer expectations are constantly in flux, and you will continue to learn as you strengthen your eCommerce experience. eCommerce can become a competitive strength when based on a solid plan and smart execution by a strong team that harnesses the technology, processes, and people to deliver a great customer experience."
Is your business eCommerce ready? Contact us with any eCommerce questions as you evaluate your eCommerce software solutions and check out our recent post on eCommerce Success where six Acumatica customers discuss their success with Acumatica Commerce Edition and how Acumatica will never make you stand alone.