Why reinvent the wheel? Six Acumatica customers have already done the work, sharing their successes—and lessons learned—as they've grown their eCommerce businesses with Acumatica Commerce Edition.
Digital buying is clearly on the rise. Billions of people purchase goods and services online every day across the globe. Statista estimates online buyers to reach 1.92 billion in 2019, 2.05 billion in 2020, and over 2.14 billion in 2021.
Businesses must be powered by the right B2B eCommerce software if they want to compete and succeed online.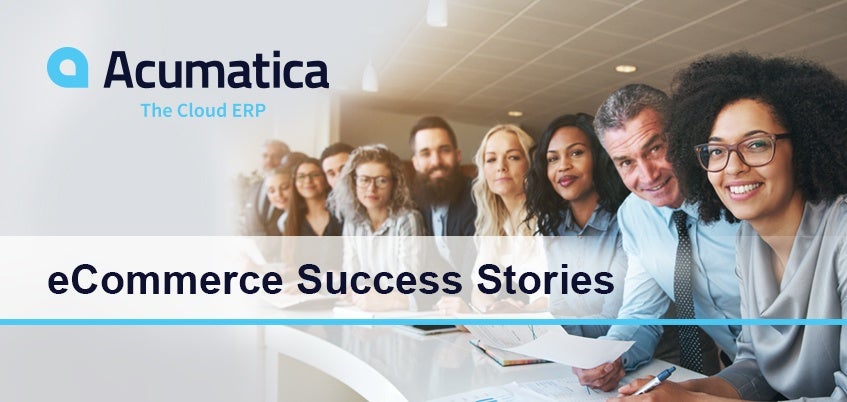 To assist you in your eCommerce efforts, we've created a few checklists: Acumatica's eCommerce Back-Office Evaluation Checklist and A Quick Reference Checklist to eCommerce Readiness. These resources will help you figure out which eCommerce back-office system (out of many eCommerce software solutions) is best for you and how your B2B eCommerce software should integrate with it for the best results.
Another great resource is the Acumatica eCommerce Customer Success Storyboard – featuring a panel of retailers who share how they overcame their eCommerce challenges and created massive success with Acumatica Cloud ERP Commerce Edition. In these Acumatica Commerce Customer Success interviews, you'll hear stories and advice that may answer many of your questions about eCommerce in general and Acumatica in particular.
Acumatica customers on Acumatica Commerce Edition
The following is a brief synopsis of each company you'll hear from in the short but informative interviews.
Ray Allen Manufacturing
Ray Allen Manufacturing supplies high-quality K-9 gear and equipment to military and police departments, many of which they manufacture themselves, and have a consumer-based product line with J&J Dog Supplies.
Their legacy system was unable to run their multiple companies (which had different customer segments and product lines) from a single system, so they searched for a modern cloud ERP solution that could. They also looked for one that integrated with third-party applications, had a strong CRM system, and offered powerful reporting.
Vice President of Operations, John Oakley, says, "We chose Acumatica primarily because of its flexibility and its ability to integrate with an eCommerce platform. We rolled with Magento at the same time we went with Acumatica, and we were able to integrate all of our websites directly into our ERP. It just really streamlined the whole process for us."
You'll hear John explain what it's been like working with Acumatica, some of the challenges they've encountered and overcome, and how Acumatica and Acumatica Commerce Edition have fueled their growth.
Premier 1 Supplies
Premier 1 Supplies provides electric fencing and netting, sheep and goat supplies, clippers and shearers, ear tags, poultry products, and expert advice to livestock farmers. They've been in business for over 40 years, selling their products through a traditional mail order catalog and their website.
They searched for a business-to-customer (B2C) cloud ERP system but couldn't find an ERP and eCommerce solution that could handle their many customizations as well as their need for PCI compliance. They decided to implement Acumatica and experienced growth through their now streamlined B2C service and increased efficiency.
"Acumatica allows us to do what we want to do, the way we want to do it, on our terms," says CEO and Co-Owner Ben Rothe.
He, along with Cheyenne Miller, Product Development, discuss why Premier 1 (which sees 65% of their business come from online sales) chose Acumatica, its ease of use, how Acumatica has helped them save time and supports their strategic goals, and more.
Nothing Bundt Cakes
Nothing Bundt Cakes is a nation-wide bakery franchise (with 290 and counting) that offers customers readily available, delicious cakes made from the finest ingredients.
The company operates as three separate entities (the franchise bakeries, a manufacturing arm, and a distribution center). They required a cloud ERP system to connect their multiple entities, access data from any of the businesses, automate their inventory management process, and provide insight into their pricing needs.
Former CFO, Bill Schaffler, says, "One of the reasons we were very much intrigued with the Acumatica system was due to the fact that we're actually investing in technology right now in many, many different ways across the company. Acumatica has enough capabilities to serve each department uniquely and very quickly."
As Nothing Bundt Cakes' secret ingredient, Acumatica has helped them automate their processes and transform their business. Bill shares what the company can now do better with Acumatica, how their growth goals are being supported, and why they recommend Acumatica to other companies.
MiiR
MiiR is a company that was founded based on the idea of merging business with philanthropy. They produce stainless-steel drinkware (vacuum insulated), and they grant 3% of their revenue to organizations with sustainable methods of empowerment. Customers can track the grants through a code found on the bottom of each product.
Unfortunately, they were relying on separate systems to manage their orders and access their data. Their growth required a single solution that could streamline and regulate their processes and information, and they went with Acumatica Cloud ERP.
Founder and CEO Bryan Papé says, "For MiiR, being on Acumatica is the way we see the future and how we're going to continue to grow is being connected, being on a cloud-based system but also having this digital interface and being able to see good data."
They continue to distribute products and purpose worldwide with the help of Acumatica cloud ERP. Bryan explains why they chose Acumatica and how they're using Acumatica daily. He also offers advice for those considering implementing Acumatica.
Shoebacca
Shoebacca sells name-brand athletic shoes at competitive prices through its retail website and online store (since 2007) while also supporting local and national youth organizations by supplying shoes to those in need.
They grew quickly, and their disconnected eCommerce software solutions couldn't keep their growth on track nor deal with their licensing concerns. They decided to implement Acumatica Commerce Edition and is one of the first customers do so. They've experienced increased interoperability, profitability, and growth.
"Acumatica has been behind our success, and their support team has been integral in making sure that we've been as successful as possible," says Shoebacca's IT Director, Thomas Finney. "I would definitely recommend Acumatica to someone looking for a new ERP solution. Acumatica would be a great asset to anyone trying to expand its eCommerce platform."
In his interview, he explains why Acumatica beat the competition, how Acumatica Commerce Edition is supporting their growth and the issues they've experienced (and solved) since implementing Acumatica.
Learn from those who have gone before
Another Statista statistic: approximately 80% of US internet users will make at least one purchase in 2019. Getting your eCommerce website and back-office system ready right now is necessary if you want to succeed. Listen to the Acumatica Commerce Customer Success interviews to learn how Acumatica and Acumatica Commerce Edition can help you get your share of the digital buyer pie.
You're also invited to contact our team with any questions or to schedule a demonstration of Acumatica's cloud ERP software.