Why Use Customer Satisfaction Surveys?
Most people would agree that a strong support team plays a crucial role in keeping customers satisfied.  Whatever methods you use to measure the strength of your own company's support team, wouldn't you also agree that the most important feedback comes from the customers they've helped?
After a case is closed, how can a customer tell you about their experience with your support team?  Two clients who have had their support cases successfully resolved still might have had very different experiences with the overall process.  While it's nice to receive an email from a satisfied client saying, "Thanks, it works now," it's impossible to convert such a sentiment into cold, hard metrics.
Feedback surveys are a great solution to this.  When a customer support case is closed, following up on it by asking the case's contact to fill out a survey can quickly provide you with a summary of their experience that is both detailed and measurable.
A New Extension for our Already-Robust CRM
Acumatica ERP is already great when it comes to customer support.  When our own team uses it to handle support cases, all the tools we need are available to us on a single page – besides having access to basic things like case status and description, we can track all case activity (including correspondence) and view detailed information about the business and contact associated with a case.  The case support screen is cleverly integrated with other parts of the ERP – all the time that we log against a case, for example, is automatically added to our weekly timesheets.  If you dislike filling out timesheets as much as I do, you already know how great this feature is!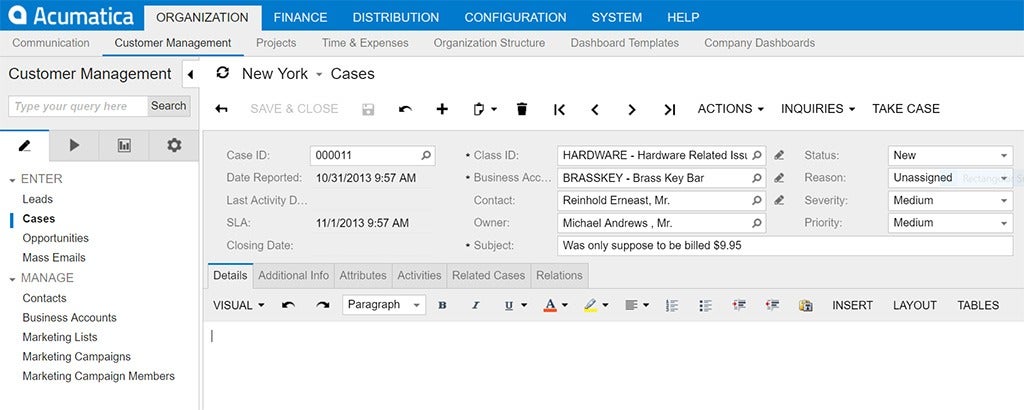 Acumatica ERP clients already know that what I just described is only a fraction of what CRM is capable.  One of our  greatest strengths has always been its flexibility.  If you have a business requirement that our product doesn't already support, there's a good chance you're only one small customization project away from bringing in that functionality.
We initially built the extension for our own use, but we found this new functionality is so useful that we wanted to offer it to our clients as well.  We could have just posted a link to the customization project, but we ultimately decided to publish the project to an open-source repository.
Why Make It Open-Source?
This is Wikipedia's definition of open-source software:
Open-source software (OSS) is computer software with its source code made available with a license in which the copyright holder provides the rights to study, change, and distribute the software to anyone and for any purpose. Open-source software is often developed in a collaborative public manner.
Our new customization project contains two compiled dynamic-link libraries (DLLs) – one to connect the project to the SurveyMonkey application program interface (API), and one to provide all the code for the new Acumatica ERP screens included in the project.  If we only gave our clients the customization project, with all the code hidden in DLLs, their ability to change it to suit their unique business requirements would be severely limited.  They would not have access to the DAC extensions, graph extensions, or the rest of the logic powering the new screens.
Providing the original source code for these two DLLs in ready-to-use Visual Studio solutions, alongside the customization project, removes those limitations.  For example, our feedback survey extension currently only supports three types of SurveyMonkey questions (multiple choice, matrix/rating scale, and comment box).  What if your survey contains other question types? What if you want to add survey processing to your order management workflow?  If you have access to the source code, you can extend the current logic to handle as many new question types as you need!
That alone is a good enough reason for us to share our source code, but there's a second good reason for it as well.  Many of our clients have become proficient at customizing their own instances of Acumatica ERP.  If they make further changes to the extension to suit their own business requirements, and in the process, end up improving it in a way that others might find useful, they may want to share their work with other users.  This could be incredibly beneficial to our community of clients.  We highly encourage developers willing to contribute to the SurveyMonkey integration to submit pull requests to us.
How the New Extension Works
If you've gotten this far, you'd probably like to hear a little more about the customization project: what it looks like, how it works, and how it can benefit you.
The project allows you to do the following:
View a list of customers with recently closed support cases
Email links to your support feedback survey
Retrieve completed survey responses
View and edit your customers' responses, right inside the support case screen
The new Send Case Surveys screen handles the first point in the list.  It lets you see which customers have closed cases, but haven't yet been prompted to complete a feedback survey.  "Processing" will email survey links to whichever customers you choose.  You don't need to do this task manually, of course – it can be scheduled.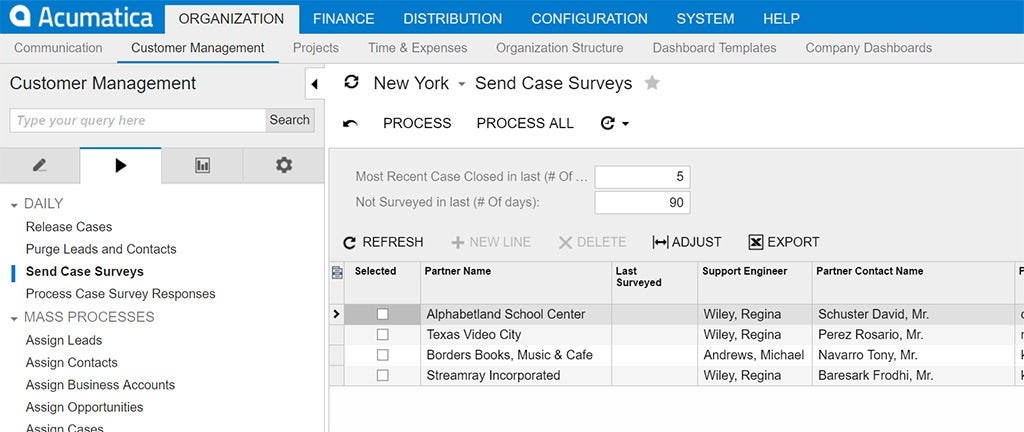 The new Process Case Survey Responses screen will pull survey responses from SurveyMonkey when the single entry for the survey is processed.  Like the process of emailing survey links, this task can either done manually or scheduled.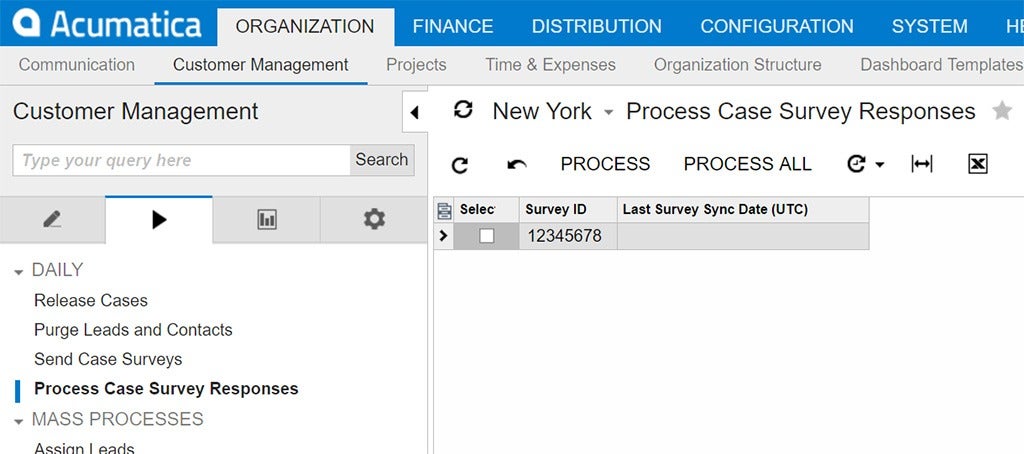 After the survey responses are retrieved, individual answers to survey questions can be viewed under the new "Survey" tab on the Cases screen.  If you contact a customer to discuss the way they answered the survey, and they end up changing their mind about some of their answers, you can edit those answers from this tab.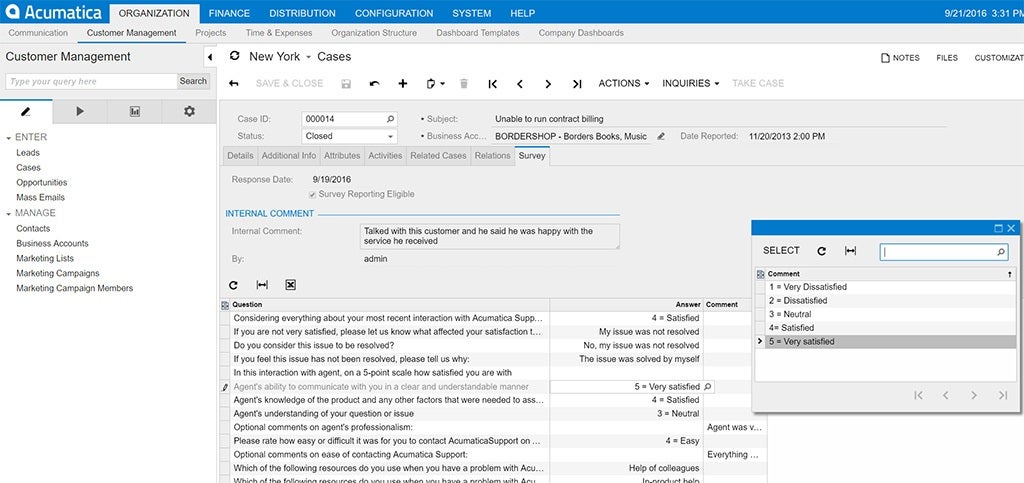 Limitations of this Extension
The feedback survey extension currently does have a few limitations.  The most important thing to know is that you need a paid SurveyMonkey account for the extension to work.  The SurveyMonkey API restricts some of their endpoints to paid accounts, and one of those endpoints is the one used to view survey response details.
One other important note is that, as previously mentioned, this extension was originally written to support Acumatica's own support feedback survey.  Because of that, it was only built to handle the following types of SurveyMonkey questions:
Multiple choice (with or without multiple answers, and allowing an "Other" comment box)
Matrix / Rating Scale
Comment Box
Setting Up the Extension
Bringing feedback surveys to your Acumatica ERP site is as easy as completing four steps:
Create a SurveyMonkey survey and app
Install our SurveyMonkey customization project
Create an email template that will be used to send feedback survey links to your clients
Configure the survey settings using the new "Case Preferences" tab on the Customer Management Preferences screen
To download the customization project, see the full setup instructions, or to simply view the source code, click here.
Hopefully you will find the new feedback survey extension as useful as we do. Enjoy!