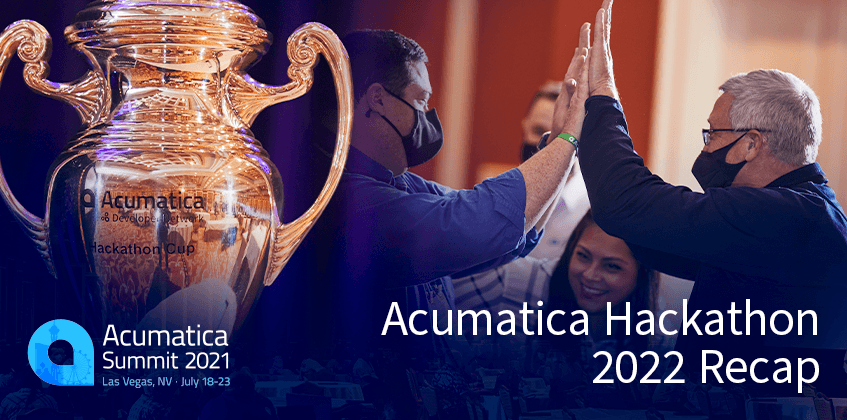 Acumatica Hackathon 2022, which started on Saturday, January 22nd at 2:00 PM and ended with the judging and awarding of prizes on Sunday, January 23rd at 3:00 PM, exceeded my expectations. Out of the 11 teams made up of 5 or 6 Acumatica developers and non-developers, all of them produced distinctive apps designed on—and extending the functionality of—the Acumatica cloud xRP platform.
Raising the Bar Again at Acumatica Hackathon
The unfortunate part of mass creativity is that it makes picking the top three winners difficult. However, the judging team (CPO Ali Jani; EVP, Products & Chief Strategy Officer Ajoy Krishnamoorthy; VP of Platform Engineering Platform Andrew Boulanov; and VP Partner Solutions Christian Lindberg) persevered, but the weight of choosing the best apps didn't rest solely on them this year. We changed the judging process to include not only the judges above by also all attendees – participating and non-participating attendees alike.  We used Mentimeter to solicit online real-time votes from all the attendees, who judged the solutions and the presentations based on five categories:
Creativity
Completeness
Technical Difficulty
Usefulness
Presentation Quality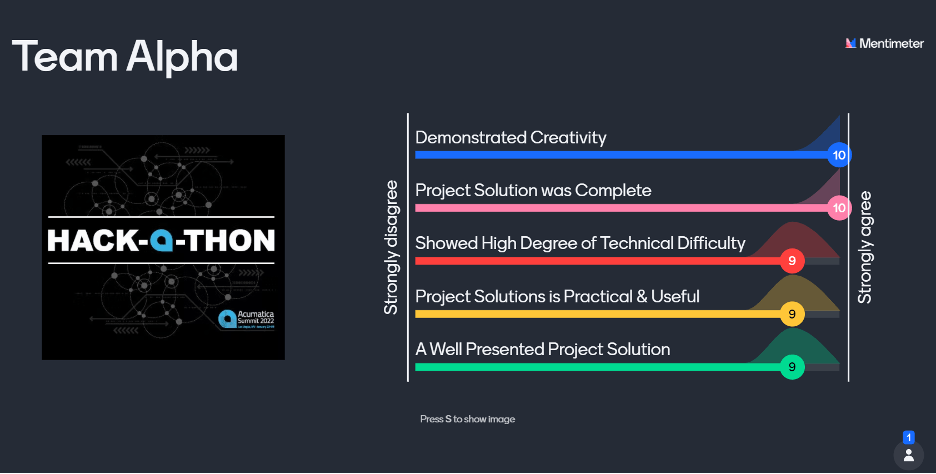 Today, we're happy to acknowledge those who, once again, raised the creativity bar to a whole new level—no easy feat considering what came out of Acumatica Hackathon 2021 just a few short months ago. As always, the winners will have their names inscribed on the coveted Acumatica Developer Network Hackathon Cup and will enjoy well-deserved bragging rights. Plus, they received the following prizes (which seem to be getting better every year) during Summit:
First place: CAIWEI 4K Full HD WiFi Projector with Bluetooth
Second place: Oculus Quest 2 VR Headset & Controllers
Third place: BLUE Microphones Yeti X USB Microphone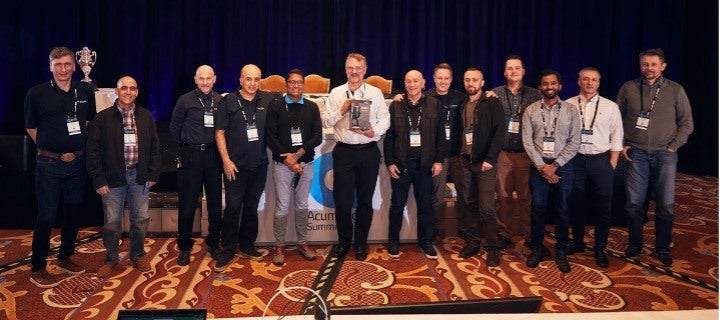 Third Place: Team Kappa
Robert Waite | REPAY​
Raj Gopinathan | CCS Technology Group​
Alfredo Balmaseda | DocCafe.com​
Stan Aistov | Clients First Business Solutions​
Alfredo Ibarra | Clients First Business Solutions
Solution: Team Kappa automated the creation of custom database tables without developers having to add any database scripts to the customization project. All the info needed for the script is already available on the DAC and DAC fields. So, we used that info to generate the scripts and execute those. This would avoid runtime errors in case the developers had forgotten to add the database script to the package as the customization package validation does not catch this.​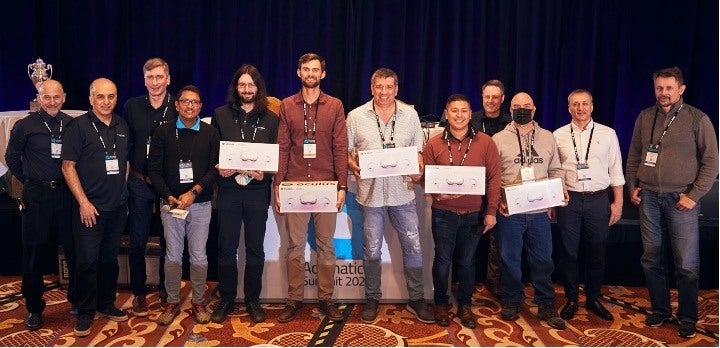 Second Place: Team Epsilon
Kyle Vanderstoep | Contou​
Michael Scardina | Perfect Aire​
Tony Tran | Perfect Aire​
Samuel-Olivier Lavigueur | Acumatica​
Brian McMillin | Interfinish / Facility360
​Solution: Team Epsilon built a solution that allows you to use the strength of the file manager system while still easily connecting your file with them. It also allows you to customize the structure in which the files are stored in the file storage system. With it you can upload the files from Acumatica or directly in the file system and as long as you respect the configured file structure you will be able to see your files in Acumatica attached to the record.​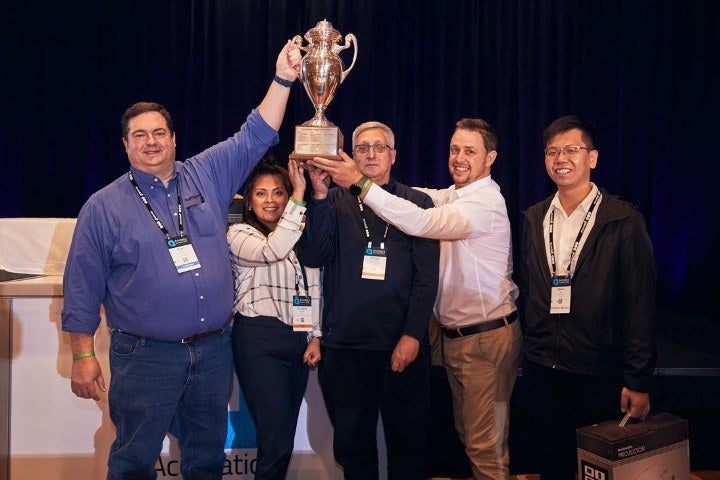 First Place: Team Theta
Brian Stevens | SETECH ​
Gerhard Van den Heever | FBA Software​
Kevin Tan | Orangekloud Inc​
William Weathersby | Intelligent Technologies, Inc.​
Christina Schwark | Korpack​
Solution: Team Theta created a solution they call Acumatica Centurion which keeps your guard up against malicious and unsavory files and raises an alarm when enemies attack.  Whether originating via standard screens, 3rd-party web service applications, or the Acumatica Mobile app, the Acumatica Centurion never lets down its guard.​
Congratulations to the top three teams!
And a huge thank you to every person who participated. Every team came up with unique applications, some of which may become an official Acumatica app or feature. Stay tuned on that front.
What Participants Had to Say about Acumatica Hackathon
It's easy for me to wax poetic about the joys and benefits of participating in our annual Hackathon. As I pointed out in "3 Reasons You Don't Want to Miss Acumatica Hackathon 2022," it's the time and place to think outside the box, build a stronger community, and have fun.
I believe every developer and non-developer in the Acumatica community can benefit from participating, and I'm not the only one. Here are some words of wisdom from Acumatica Developers who feel the same way.
"[At the Hackathon], we can learn so much stuff from each other, like little tricks of the trade, especially those tricks that are not necessarily documented, or are hard to find, or hard to understand. These are the things that will help make you a good developer. You can only learn so much at a given pace, and if you work with other people, you'll learn much faster. Collaboration is key. For those who haven't come to the Hackathon, I say do your homework first, get your certifications. Look at the code, read the code as much as you can every day, read the blogs, and try different things—you can't come unprepared." – Stéphane Bélanger, Asgard Alliance Software (VAR), Developer of the Year, Developer MVP

"I've come back to the Summits for the Hackathon. I enjoy doing them and get a lot out of them. What got me coming in the first place was seeing what people did before on GitHub. I've gotten so much out of the GitHub posts, and I wanted to be part of that. I wanted to see it firsthand and bring my own stuff to it. As ISVs or private developers, we can be really myopic on our day-to-day life. You don't see the full breadth of what Acumatica can do, so coming here, you can see what it can do, get fresh takes on different implementations and on the different areas you can customize. Don't be intimidated by people who know what they're doing. They want to disseminate their knowledge and information, and this is a good way to do it." – Shawn Burt, Paya (ISV), Developer MVP
"[The Hackathon] is a great way to make connections with people you met here and have become friends with. Relationship building is very important. It's one thing to communicate or talk to somebody on the phone or through email, but when you're doing it in person, it changes it. It's interesting to be able to be close enough to other developers to see how they work and to see some of the different approaches they take with projects. The toughest part of the Hackathon is communicating with the team to try and get a cohesive understanding of what it is that you're trying to build and make sure that everybody's on board with what it is that you're trying to do. The reason to keep coming back is that you get a broader experience with people. I work from home most of the time, and we do collaborate with other developers in our own company, but that's pretty limited space." – Joe Jacob, Crestwood Associates (VAR), Developer MVP
"Hackathon is just fun. It's like interaction networking. I love meeting new people. I actually met one of my now co-workers at the Houston Hackathon. We became friends and then I heard he was looking for a new company, and he interviewed with our company. So, I networked and found a new developer. And then, of course, the development and learning new techniques is helpful. It's a collaboration of ideas. I love socializing directly with Acumatica developers, as well. As far as encouraging people to attend, I try every year to get my front-end people to attend because Hackathon is a little bit of a misleading name. It's for everybody. We need people that present and people with great ideas. It's a whole team effort." – Eric Petruncio, Clients First Business Solutions (VAR)
Looking Ahead to Acumatica Summit 2023
Acumatica Hackathon is the place to expand horizons, learn from developers (and non-developers), and enjoy yourself while doing it. I anticipate Acumatica Summit 2023 and its Hackathon to be just as wonderful.
Until then, don't forget to connect with the Acumatica Developer Community and check out our developer resources for information on events, the community, and our cloud xRP platform. And look for information on our annual Virtual DevCon event, coming this June. In addition, contact our Acumatica experts with any questions about Acumatica's award-winning cloud ERP solution or to set up a demonstration.