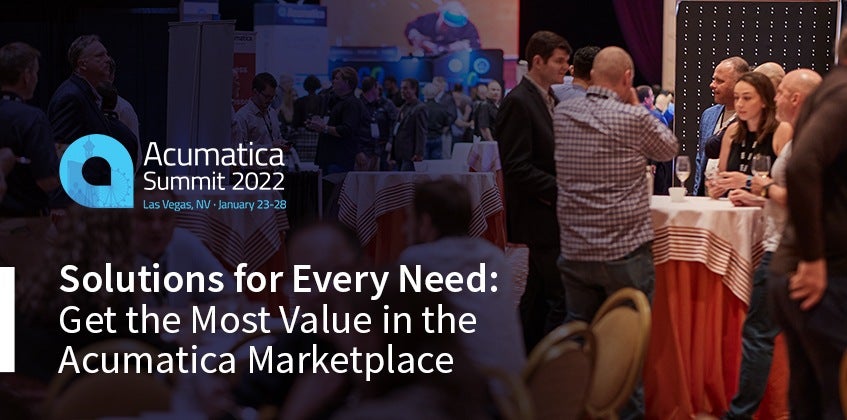 Every year, Acumatica ISV and Acumatica OEM partners gather together during our annual Summit to exhibit their innovative third-party applications at the Acumatica Marketplace. With Acumatica Summit 2022 just around the corner (January 23-28, 2022, at the Wynn Las Vegas), we're excited to share that the Marketplace is our biggest to date. Our 50,000 square feet of exhibit space is sold out with 100+ returning and new ISVs.
Acumatica Cloud ERP: A Growing Marketplace for a Growing Community
A mere six months ago, we held Acumatica Summit 2021 where we recorded the highest Summit attendance yet. The week-long cloud ERP event focused on collaboration, innovation, and acceleration, highlighting the resiliency and success of the Acumatica community.
Fast forward to the present, and we're expecting Acumatica Summit 2022 to exceed expectations once again. The benefits of attending are many, from connecting with Acumatica and ISV experts and developing at the Hackathon to furthering attendees' knowledge in breakout and training sessions. Another huge benefit? The Acumatica Marketplace, where growing companies (in both volume and complexity) find new products and technologies that will help them automate and streamline their business management processes.
Acumatica customer Scott Lyons, CFO, Alpha, says the Acumatica Marketplace is one the reasons people should attend. "You get to meet partners and VARs that offer products that can really help in regards to the implementation you have with Acumatica and how to make it more successful."
The number of partners ready to help businesses succeed with Acumatica has grown extensively. Within the last six months, we've added 27 Acumatica ISVs.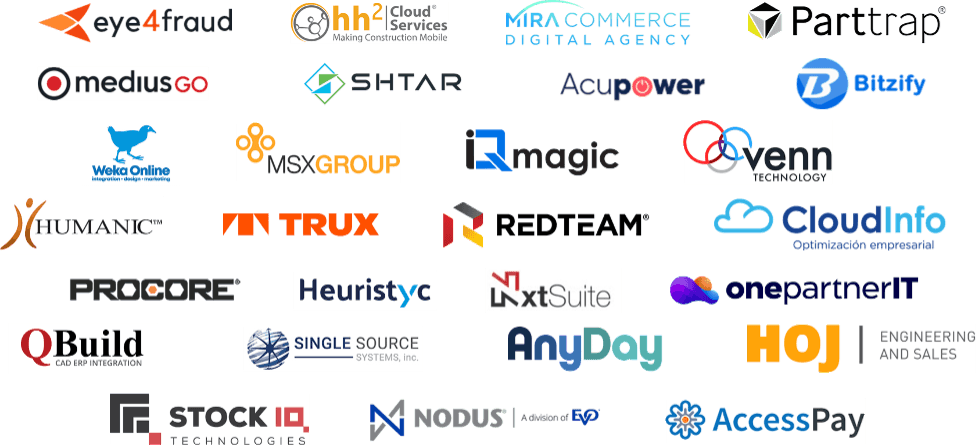 Acumatica Marketplace Details
The Acumatica Marketplace opens Sunday, January 23rd during the Welcome Reception. Food and cocktails will be served as attendees mingle with their peers and explore the exhibits. The Marketplace will also be open during breakfasts and lunches. Attendees may want to visit during off times when it's less busy and secure one-on-one time with partners.
The set up for this year's marketplace will mimic the floorplan from last year. As the heart of the ecosystem, Acumatica will have its booth in the center, which will be manned by team members from every specialty. The Acumatica booth is the place to find out who we are as a company, where we're headed, what the key functionalities of our cloud ERP software are, and much more.
Surrounding the Acumatica booth will be Acumatica partners grouped together by industry. Retail, Distribution, Manufacturing, Construction, and General Business applications will be with like-minded applications, making it easier for attendees to find the solutions they need for their business.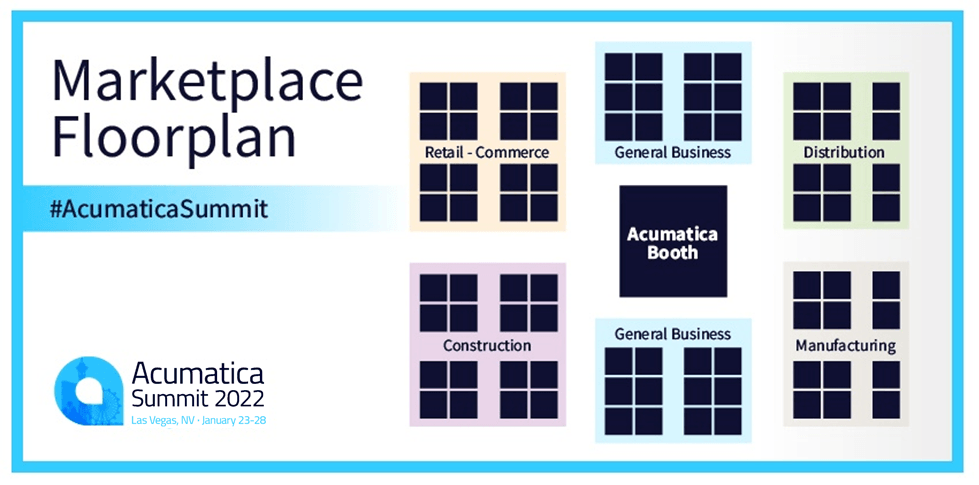 Celebrating the Acumatica Marketplace and Solutions for Every Need
Thanks to our expanding community, Acumatica continues to hold the title of the fastest growing cloud ERP solution on the market today. Why have hundreds of partners and developers chosen to champion Acumatica's award-winning cloud ERP software and exhibit their applications at the Acumatica Marketplace? Read what a few of them have to say.
BigCommerce is excited to have a presence at this year's Acumatica Summit as a Premier Sponsor. Our flexible, Open SaaS eCommerce platform combined with Acumatica's best-in-class ERP is proving to be beneficial for many B2B and B2C merchants, Acumatica VARs and Digital Agencies. We are thrilled to bring our commerce expertise and contribute to the growth of Acumatica solutions for merchants worldwide.  – Sachin Wadhawan, Vice President, Technology Partnerships, BigCommerce
"Assignar is excited to return to the Acumatica Marketplace this year with a fully bi-directional integrated solution. This dynamic enables real-time field operations performance and scheduling data, allowing you to supercharge your Acumatica investment. We look forward to great conversations with VARs, ISVs, customers, future customers, and the Acumatica team on how you can now order directly through the Acumatica price book. Come and talk to us and see how we can Supercharge you!" – Darren Metherell, Head of Strategic Partnerships, Assignar
"Pacejet is proud to be a returning Gold Sponsor at Acumatica Summit 2022 and are looking forward to sharing more about the only multi-carrier shipping solution built and maintained by Acumatica. Our team has found this event and the marketplace to be an excellent platform for networking, learning and collaborating with our customers, partners, Acumatica team, and other members of the Acumatica community. We are grateful to be able to be a part of this event and community and look forward to the event." – Stephen Karem, Sr. Director of Sales, Pacejet 
"Vertex is excited to once again be exhibiting at the Acumatica Summit. We have seen tremendous success through our partnership in the last year, specifically becoming the first tax technology provider to achieve both Fulfilled by and Certified by Acumatica. This provides customers a seamless and cost effective experience to add sales tax to their Acumatica solution. We are looking forward to being present at the Acumatica Marketplace to share knowledge on this announcement with the SI and VAR community. Our partnership with Acumatica is built on trust and the consistent performance and value of our solutions with Acumatica's ERP." – Bradd Wildstein, Vice President of Indirect Sales, Vertex Inc.
"We are thrilled to be exhibiting at the Acumatica Marketplace. It is the best place to view and explore the vast Acumatica ecosystem of solutions and we are excited to have the opportunity to meet with partners and customers. LYNQ MES enhances Acumatica through manufacturing operations management and advanced planning and scheduling tools. Be sure to visit us on booth 71 to take your manufacturing operations to the next level!" – Mark Gregory, CEO, LYNQ
"In this day and age you create trust through happy customers, and Acumatica hits a trifecta with its vibrant and engaged community. Users can review on the Acumatica marketplace, engage online in the Acumatica Community and meet face to face each year at Summit. Our involvement in this community has been instrumental to the success of Velixo, the best Excel-based reporting tool for Acumatica!" – Gabriel Michaud, Creator, Velixo Reports
"Managing supply chain and the delivery experience to the customer has never been more important in commerce. We are thrilled to be back at the Acumatica Summit with both ShipStation and ShipEngine as we deepen our partnership with Acumatica, the ISV ecosystem, and merchants to solve the logistics challenges of today. We also look forward to seeing our friends at Summit After Dark!" – Bill Pryor, VP Channel, Auctane 
"The Acumatica Marketplace is the pinnacle event of Acumatica Summit for acu-connect community sponsors. Our community sponsors understand the value the Marketplace provides for in-person connections, and most are repeat exhibitors year after year. The opportunity to meet with partners, customers, Acumatica employees, and other Marketplace ISVs through this solution-oriented networking environment is a key component to helping Acumatica partners grow their businesses.  The Acumatica Marketplace is a can't miss agenda item for all Summit attendees to learn how they can enhance their Acumatica ERP experience with third-party applications that seamlessly integrate to provide an end-to-end solution for their unique business needs."  – Liz Anderson, acu-connect Board member
Community At Its Best
The Acumatica Marketplace is the perfect place to bring members together. Unfortunately, it only happens once a year, so Acumatica has recently introduced the Acumatica Community. Members participate in discussion or partner forums, provide product ideas, or join user groups while learning about new releases, pre-releases, upcoming events, and more. Though it's in its early stages, there are already more than 10,000 members, 3,400+ topics, and almost 8,000 replies.
We encourage Acumatica users to join the Acumatica Community. It's the perfect place to receive and give support and advice. We also encourage Acumatica Summit 2022 attendees to visit the Acumatica Marketplace. They will find solutions for every business need. Our partners are ready to demonstrate how their third-party applications, designed to work exclusively with—and to extend—Acumatica's modern business platform, meet each company's unique needs, as well as further their digital transformation journeys.
For questions about the event, email support@acumaticaevents.com, check out the Summit agenda for more details, and contact our team to learn more about Acumatica's cloud ERP software or to request a demonstration.