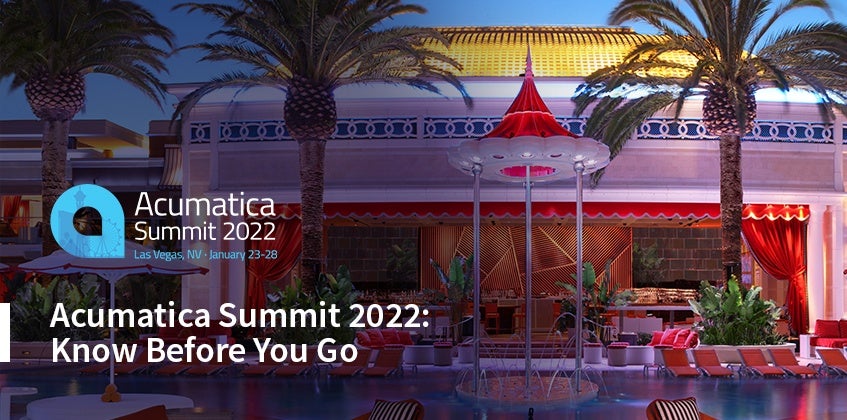 Acumatica Summit 2022 is here! Ok, maybe not here, here, but it's almost here. To help you prepare for our exciting cloud ERP event at the Wynn Las Vegas (January 23-28, 2022), I've put together a list of event details you should know before you go.
What You Need to Know Before and During Acumatica Summit 2022
1. Packing for Summit
In year's past, we've provided a comprehensive packing guide. The information is solid, but if time is of the essence, here's a condensed list of necessities:
Business casual attire, including branded gear, workout outfit, dressier outfit for the Monday night Summit Celebration Party and other planned social events, and swimming suit (optional but FYI, the Wynn's pool is heated)
Comfortable shoes
Personal care items
Electronics: Laptops, chargers
Business cards
Notebook and training prep work
2. Getting to the Wynn
Getting to the Wynn is easy. Book your flight into McCarran International Airport (LAS) and arrange a Ride Share through Uber or Lyft, taxi service, bus, or by rental cars (either through the McCarran Rent-A-Car Center, which is just over five miles from the hotel, or through an offsite rental car agency).
Important Note: The Wynn provides excellent valet parking services. If you prefer to park your own vehicle, the luxury resort hotel also provides complimentary self-park garages.
3. Onsite Check-in at the Wynn
Just like getting to the Wynn is easy, so is checking into the hotel. You can check in at the Front Desk, or you can utilize the check-in stations.
Located to the right of the Front Desk, the check-in stations are available to any guest. It's a fast and efficient way to start an event that focuses on the flexibility and effectiveness of Acumatica's cloud ERP software.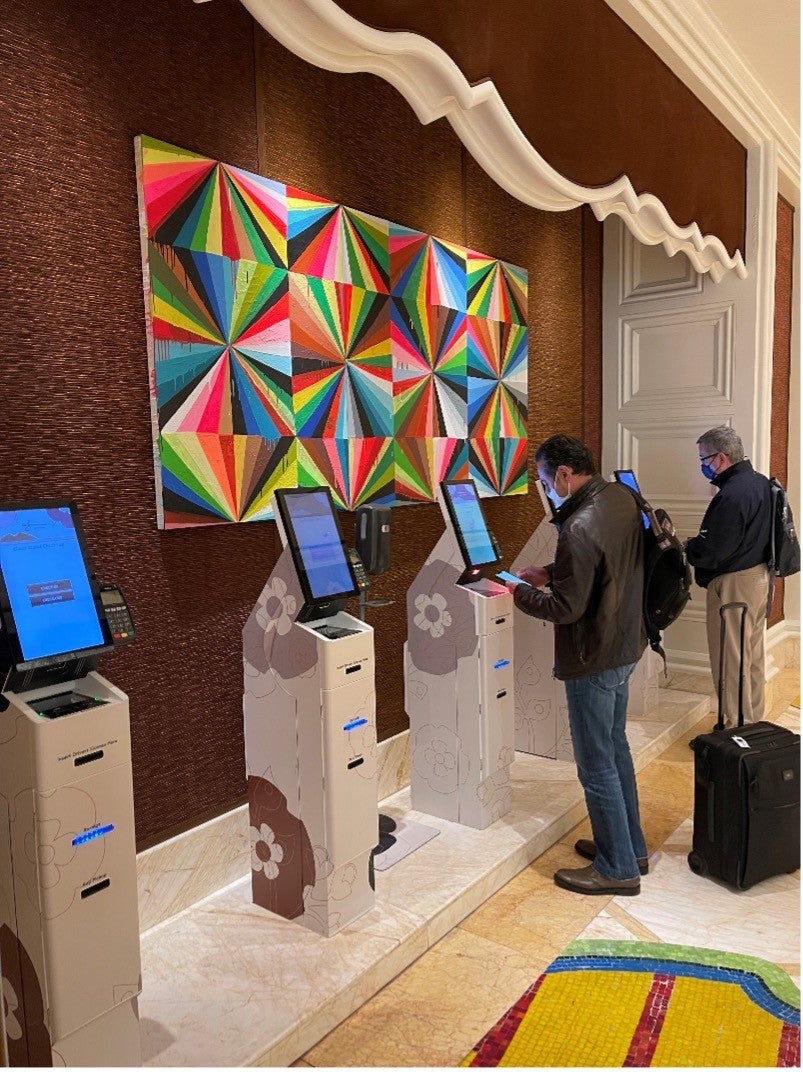 Pictured: Guests checking in at Wynn's self-service check-in station located next to the Front Desk.
4. Getting Around at the Wynn
After finding your guestroom, you may want to take a quick tour of the meeting space before Summit officially begins. Don your comfortable walking shoes and explore the following event locations:
Hackathon: Bandol Ballroom
Keynote Sessions: Cristal Ballroom
Acumatica Marketplace/Welcome Reception/Meals: Lafite Ballroom
Summit Celebration Party & Dinner: XS Nightclub
Women in Technology Luncheon: Mersault 1 & 2
Closing Reception: Sunset Terrace
Breakout Sessions and locations are noted in the Acumatica Summit Agenda. Here's a floorplan for your reference: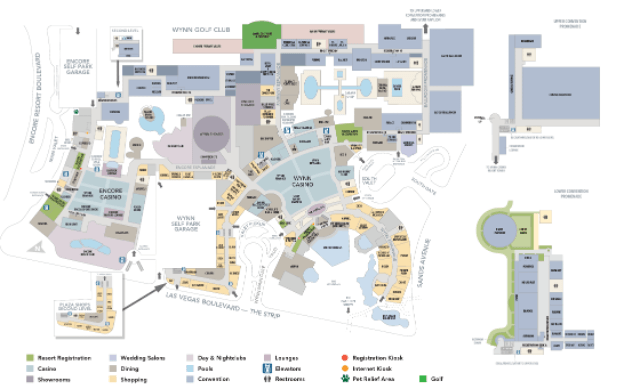 5. Staying Connected During Summit
What's the best way to stay connected during Summit? The Acumatica Summit Event App.
Not only does the mobile app support our sustainability efforts by eliminating thousands of printed guides and materials but it also puts your specialized event information at your fingertips. Once you download the mobile app (instructions were sent to you when you registered), you'll design your schedule and build your personal agenda. If you haven't signed up for any sessions, check out Acumatica Summit 2022: 4 Tips for Choosing the Best Sessions for You.
With the app, you'll know exactly where to be and when, which means you won't miss out on all the Summit has to offer.
To install the Summit App:
Download the Cvent Events app from the App Store or Google Play.
Within the app, search for Acumatica Summit 2022.
Follow the instructions to log in.
See You at Acumatica Summit 2022
I can't wait to see you and every customer, partner, developer, and industry analyst registered to attend Acumatica Summit 2022. It will be an invigorating event that starts the New Year off right. And when it's over, you'll return home with invaluable insights gleaned from educational sessions and other Acumatica community members.
"Attending Summit is great for meeting new people, getting new ideas, finding out what you don't know about the software. We're always finding out something new that it will do," says Sean Barnett, CFO of Spohn Associates.
Listen to other Acumatica customers who, like Sean, think you should attend Acumatica Summit 2022. I guarantee, the real-life, business-enhancing takeaways from the event will accelerate your business' success in the cloud.
To learn more, email support@acumaticaevents.com, and contact our team with any questions about Acumatica's cloud ERP software or to request a demonstration.