How do you align your sales and finance teams and what part does cloud ERP and CRM software play? Graham Gardner of Strategies Group explains.
Sales managers and finance teams often seem like they are diametrically opposed. Sales teams are focused on building quality relationships and increasing company revenues. Accomplishing these goals requires increased marketing budgets and company-wide support. Meanwhile, finance teams are focused on the company's bottom line—money in, money out. Often, lack of collaboration between the two departments leads to a clash of the titans regarding what expenditures are ultimately necessary for the organization to reach revenue targets.
Let's examine how we can help sales and finance teams collaborate better and work towards the same goal (profitability!) and the importance of implementing a modern cloud ERP solution with a well-designed, integrated CRM system.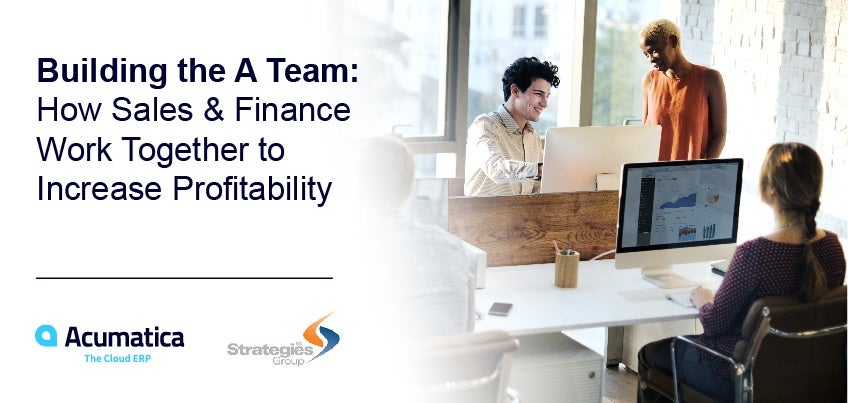 6 tips to align your sales and finance teams
1. Create a two-way dialogue.
The common misconception is that sales and marketing teams love to spend money, while the finance department does everything in their power to hack and slash budgets. This breakdown in collaboration often stems from both sides failing to speak the same language. Sales teams talk about networking events, wining and dining prospects, and closing the big deal. Finance teams often struggle with this hypothetical approach to business due to their grounding in numbers and analytical information.
We recommend that your sales team brings finance into the fold. Depending on your sales cycle, consider inviting finance to quarterly, monthly or weekly scheduled meetings to discuss sales goals and objectives. Doing so will allow both sides of the table to submit valuable feedback. Since finance often has a more holistic view of the various demands on your organization, allow them to play a support and advisory role for the sales (and marketing!) department.
2. Failure to plan is planning for failure
In many organizations, the chief executive officer requires each department to generate and submit an annual plan. During this process, allow your finance team to play the role of trusted advisor for your sales and marketing staff. Doing so allows your "numbers people" and business development staff to start speaking the same language from day one. The expertise of the finance staff streamlines the planning process for your sales team, saving them time and frustration.
Remember, while planning, all your goals should be S.M.A.R.T. goals. S.M.A.R.T. goals are:
Specific: State what you'll do. Use action words.
Measurable: Provide a way to evaluate. Use metrics or data targets.
Achievable: Within your scope. Possible to accomplish, attainable.
Relevant: Makes sense within your job function. Improves the business in some way.
Time-bound: State when you'll get it done. Be specific on date or timeframe.
3. Accurate forecasts the weatherman would be jealous of
Your organization's revenue forecast is one of the most critical elements of your annual business plan. If your company fails to accurately project revenues, you could create a cash flow shortfall that will create ripples throughout your organization for years to come. Sales and marketing teams can often be overly optimistic when it comes to forecasting.
Allow your finance team to work directly with sales and marketing to develop revenue models that are realistic, with assumptions based on a thorough understanding of your industry and the current economic conditions. Combine sales and marketing's natural sense of enthusiasm with your finance team's inherent conservatism to create a forecast that blends the best of both views—being realistic and attainable.
4. Budget requests
When the proposed budget is presented to your leadership team, sales and marketing staff must be able to justify the increases in business development expenditures included in the forecast. Your finance team should participate in this meeting and answer any concerns expressed by the leadership team so that they can decide whether to approve the budget.
While the interests of sales/marketing and finance might clash, examining the rationale for budget requests gives your leadership team the information needed to make an informed decision about whether the expenditures should be approved. Your leadership team will feel much more comfortable approving expenditures knowing that sales, marketing and finance have worked together to determine the requested line items.
5. Walk a mile in finance's shoes
Put yourself in accounting's shoes and try to understand their hesitancy. Understand that often, finance is not questioning the value of sales and marketing, they are, however, questioning how to quantify the results to the effort/cost. Business development is not a perfected science. By demonstrating a desire to track ROI, you will show your finance department that you too have the company's bottom line in your best interests.
The single biggest hurdle with communication is the illusion that it has taken place. Don't sit back and assume that your finance department is aware of your desire to be a metric-driven-results-producing business development pro. Get the conversation started!
6. Deploy an Integrated CRM System
There are many benefits of a well-designed, integrated CRM system. Your CRM system should enable your sales team to focus on the opportunities that matter. A well-designed, cloud ERP and CRM system should guide your sales team throughout the sales process by leveraging modern features such as lead prioritization, automatic reminders, lead nurturing and notes. When your CRM system acts as a sales playbook, the results are an increase in your sales team's closing ratios and improved productivity.
Bonus: When you deploy a cloud-based (not on-premise) and integrated CRM system, management gains critical insights into the deal pipeline and the operations of the sales team. When management understands how fast leads are being contacted, the number of attempts made per contact, total sales and idle time, they can look for opportunities to optimize the sales process or resources.
To achieve business success, CRM software is no longer optional
Today's market place is a dog-eat-dog world, and you need every competitive advantage you can get. See how your firm can do more with Acumatica cloud ERP and Acumatica CRM. Rather than "one more piece of software," effective CRM software drives increased customer loyalty, client acquisition, and sustainable long-term growth. Acumatica CRM acts as a conduit for your sales and marketing staff to unify their efforts with the finance department. Download this on-demand webinar by Strategies Group and see how firms are all in with Acumatica, utilizing Acumatica CRM to achieve goals and exceed client expectations.
And if you're interested in joining hundreds of Acumatica VARs and becoming an Acumatica partner (which includes full access to the Acumatica Partner Program), the Acumatica team will be happy to answer any questions or to schedule an appointment.