Does your current ERP financial reporting system provide you with essential, accurate, and interactive accounting reports? If not, you may want to contemplate ending your association and finding a different, more comprehensive solution, like FYIsoft's cloud financial reporting software – now integrated with Acumatica.
You might be surprised to learn how frequently a company is looking to replace their entire ERP system simply because of its financial reporting limitations. Acumatica's Jessica Gadbois shared this insight during a recent webinar as she introduced some of their newest ISV partners.
Financial reporting is the heart of any business. The ability to produce accurate, timely and useful reports is arguably the most important function in the entire accounting process. These financial reports are the "pulse" that enables us to monitor a company's financial health, and quickly identify potential problems that can be addressed before it's too late.
But it's not as easy as it sounds. Whether operating in highly complex environments that involve consolidating multiple companies and/or currencies, or simply trying to appease every manager's unique requests and preferences, financial management and reporting can cause some of the most strained relationships within a company. Even causing a breakup, as Jessica alluded to above.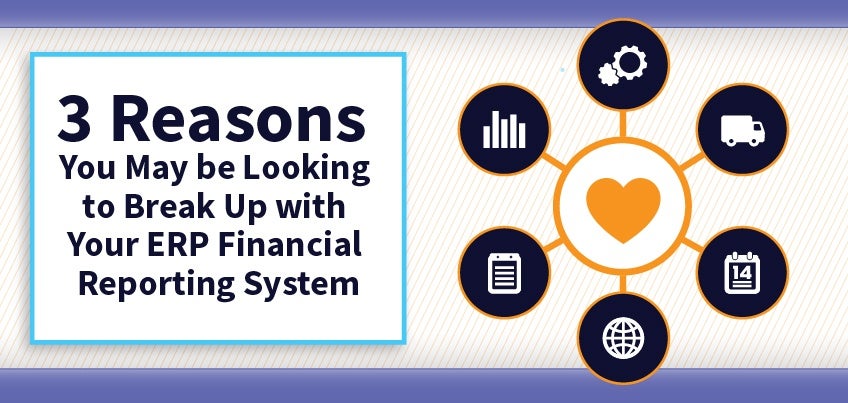 Acumatica and FYIsoft
Fortunately for Acumatica customers, you don't have to worry about the pain involved with a breakup, thanks to the integration with FYIsoft's cloud financial reporting software. Below we'll explore three relationship killers that may have you ready to say goodbye to your ERP financial reporting system, and hello to FYIsoft's solution that is now available to you.
1. It's just too hard
Most report writers continue to rely on Excel or another manual effort. One small change results in an enormous amount of work.
For example, a change to an account code requires a manual adjustment in all the reports it touches (what we call "the ripple effect"). Or consider the business manager who prefers to see negative numbers displayed with black parenthesis rather than a typical red font. This seemingly simple request can absorb hours of staff time to reformat every Excel file that needs to be edited.
These are just two very basic examples, but when you apply that same thought process to the ability to add new line items, new departments or new acquisitions, you begin to see the reason why this relationship is not destined for the long-term…it's just too hard.
FYIsoft's unique architecture addresses all of this and more. From the ground up, we built financial intelligence into our platform. Which means that when a change occurs in one place, the software automatically (and accurately) adjusts for that change in every report it touches. It is truly the "one and done" approach: make the change once and you can live happily ever after.
2. They share too many secrets
Distributing reports sounds simple enough. But when those reports reflect the complexities of a business, and number hundreds or more reports each close period, it can be a very tedious, time consuming process. Not to mention a little dangerous.
You know the feeling when you're about to send something important, and you start to sweat a bit before you click the 'send' button…double and triple checking that you're sending the RIGHT information to the RIGHT person? Finance teams often experience that anxiety with every report they send, with these questions ringing in their head: is the right person receiving this report, do I have the right data in here, am I sending anything confidential that I'm going to get fired for?
Yet despite our best efforts to double and triple check the information, mistakes are inevitable when manual processes are involved.
FYIsoft removes this anxiety and allows for the easy setup of defined report distributions, no matter how complex. If reports are being generated for a specific product or division, and include unique reports for branch manager A and B, you still only need to generate that distribution once, but you'll gain complete confidence that each recipient receives only the reports they are authorized to view – with complete accuracy every time.
3. They withhold information
Those who rely on financial reports and their ERP financial reporting system to run their business need answers, and they need them now (if not yesterday). But when they're looking at a static report that shows a jump in an expense item, or an unexpected budget variance, they have no way of answering that elusive question of "why." Unless, of course, they pick up the phone (again) and task the finance team with finding their answers.
With today's fast-paced environments, business decisions cannot afford to hinge on someone's availability to research this information. One of the great features of FYIsoft is the ability to distribute interactive reports through the web. While the numbers cannot be altered (protecting the integrity of the financial data), recipients have the ability to drill down into any line item in question, and immediately gain visibility into every transaction that is driving those numbers – right down to the journal entry.
FYIsoft empowers users to proactively conduct their own research, speeding up the analysis, allowing time to make any needed adjustments, and relieving the finance team of the heavy burden placed upon them to be the single source for answers.
The ERP financial reporting system for you
If you'd like to see how these features combine to deliver real bottom-line savings, download our case studies. You'll discover how FYIsoft can cut 10+ days off your financial close periods, giving you more time for analysis, preparation, and enjoying those relationships in your life.
Contact us and we'll show you how our integration with Acumatica makes it even easier to benefit from FYIsoft's world-class ERP financial reporting solution that is now available to you.